PRINCESS AND THE WARRIOR, THE
Reviewed April 3rd, 2002 by David Nusair
After the incredible success of Run Lola Run, it's no surprise that writer/director Tom Tykwer would want to create a film that's almost a polar opposite of that film. But with The Princess and the Warrior – though he does prove that Tykwer is genuinely talented – he's crafted a film that's gorgeous to look at, but completely hollow and devoid of compelling characters.

Franka Potente (the star of Run Lola Run) stars as the princess of the title, a young woman who works at a mad house. Her day-to-day life is dull and routine, and we get the impression that that's exactly how she wants it. But when she crosses paths with Benno Furmann, a mysterious criminal, her life takes a wildly unexpected turn. Furmann's on the run (literally) for stealing some groceries, which distracts a truck driver, causing him to run over Potente. In the ensuing confusion, Furmann manages to make his way over to where Potente is lying, dying. In an increasingly common move, he manages to perform one of those on-the-spot tracheotomies using only a knife and a straw. Cut to some time later, and Potente is now determined to find Furmann and thank him (this is just a guess, as we never do discover the reasoning behind Potente's stubborn need to locate Furmann). The rest of the film essentially consists of a series of misadventures as Furman alternates between hating Potente and merely tolerating her presence.

The Princess and the Warrior is an exceptionally good-looking film, with Tykwer's skillful direction providing a unique and colorful perspective on the world. However, beyond that, the film never really progresses to any kind of involving level. His two central characters remain enigmatic and mysterious throughout the film, so it's almost impossible to identify with them or even relate to their actions. Tykwer never allows us too attached with either of these people, choosing instead to keep us at arms length throughout.

And at a running time of over two hours, that sort of structure makes for some serious pacing issues. What it really boils down to is various parts of The Princess and the Warrior are more entertaining than the whole. For instance, there's a blind character at the asylum where Potente works that's just fascinating – all the more so considering he's actually played by a sightless man. But for every character like that, there's a few more that never add up to much (the psychotic that has a twisted relationship with Potente, for example. We never find out why Potente continues to sexually gratify this man, a person she clearly has no interest in otherwise).

But again, the look and style of The Princess and the Warrior almost makes it worth checking out. Tykwer's got an exceptional eye and should he ever make a film with a coherent storyline, I've no doubt it'll be amazing.

Audio: The Princess in the Warrior is presented in its original German, in a DD 5.1 soundtrack. Though not quite as aggressive as you might think, this is still an effective track. More action-oriented sequences won't disappoint, though there's never that "you are there" feeling. But since Tykwer's created his own little universe, perhaps that was the point…

Video: This 2.35:1 transfer is quite good, not surprisingly. This is a very colorful and vibrant flick, and the transfer adeptly reflects that.

Extras: This is a surprisingly packed disc. First up are two commentary tracks, both featuring writer/director Tykwer. In the first, he goes solo – talking about the various rigors involved in shooting a film of this scope to the genesis of the idea. Tykwer proves to be a very affable fellow, and with few gaps, this is quite an interesting and informative track. The next track features Tykwer, and actors Potente and Furmann. This is a more rambling, non-specific track. Though they do occasionally talk about what's happening on screen, this track is mostly devoted to the actors talking about their characters and how they came to the project. The trio are obviously friends in real life, and that shows in this track.

Next up is a 35-minute making-of documentary, though a more apt title would be "The Philosophy behind The Princess and the Warrior." In it, director Tykwer and the various stars and other behind-the-scenes folks mostly talk about what the movie means. There's the occasional look at how a particular shot was achieved, but this is generally a talkfest. Not that it's boring, really; it just becomes repetitive after a while.

Up next are five deleted scenes, along with a 20-minute introduction from Tykwer and his editor. In the introduction, the two talk about the process of editing and the five sequences specifically. There's also the option to watch the scenes separately. They're all fairly interesting, though none really contribute anything tremendous to the overall effect of the film.

Rounding out the package are the usually filmographies and some trailers (this film, Run Lola Run, and Go).

Conclusion: The Princess and the Warrior has a lot of fans, all of whom should quite enjoy this disc.
Please help support our site by buying this DVD title through this link. Thank you kindly.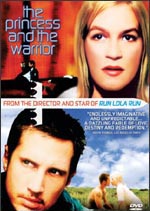 Purchase This DVD
Story / Content



Audio



Video



Extras