REPLACEMENTS, THE
Reviewed July 29th, 2001 by David Nusair
In The Replacements, the football stuff is just so overwhelming, that - unlike other, better sports movies such as Rudy and Hoosiers - non-fans of the sport will find themselves bored almost immediately. Instead of focusing in on characters and plot, The Replacements instead devotes itself almost entirely to football (which, no doubt, made football fans ecstatic).

Starring Keanu Reeves as has-been football player Shane Falco, The Replacements essentially focuses around a team that has to replace all of it's striking players with a ragtag bunch of wacky players. These are the sort of people that only pop up in movies, but that's okay. If the acting is good and the characterizations aren't too off-the-wall, it's generally acceptable (as it is here).

No, the problem with the film really has to do with it's one-track devotion to the sport. Despite a brief subplot detailing Falco's romance with a cheerleader, The Replacements is practically like sitting down to watch a three-hour football game (only it's mercifully a lot shorter).

But the cast is good, particularly Gene Hackman (who's essentially reprising his Hoosiers role as the tough-as-nails coach with a heart-of-gold). But unlike a movie such as Hoosiers, The Replacements never transcends the sport it portrays. It never becomes about the triumph of the human spirit or how effective team work is - it's just a goofy football comedy (and quite proud of it - how else to explain Jon Favreau's one-note performance as an overly-aggressive lineman?).

Audio: The Replacements is presented with a DD 5.1 soundtrack, and it really sounds great. From the quiet moments to the raucous football matches, this is a track that performs exactly the way you'd want it to. You'll swear that you're in the middle of the field during some of the more aggressive moments (although, for pure visceral thrills, the DVD of Oliver Stones' Any Given Sunday easily outshines this one).

Video: This 1.85:1 anamorphically enhanced transfer is, not surprisingly, flawless. There are no film elements present and the picture is free of all artifacts. Hackman's every pore can be...well, pored over if you so choose. Really a great looking disc.

Extras: First up is a commentary track with director Howard Deutch. This is a surprisingly informative track, with Deutch touching upon subjects ranging from the casting to how they secured the use of a football field to whether or not the actors really took hits from opposing players (they did). Deutch seems very relaxed, which gives the track a sort of hanging-out-with-a-buddy feel that often elevates a commentary to a memorable one. But he mentions a few scenes he had to delete; would it not have made sense to include those? Next up is a 15-minute HBO Behind the Scenes doc, hosted by Orlando Jones. This is a pretty jokey affair, with a look at the hijinks that went into making the movie. Nothing too informative here, though it is entertaining. That's followed by a 9-minute featurette detailing how the actors were made to look like football pros. Finally, there's filmographies for the cast and an anamorphically enhanced trailer.

Conclusion: If you don't already like football, this movie won't change your mind. But if you do, you'll no doubt love it.
Please help support our site by buying this DVD title through this link. Thank you kindly.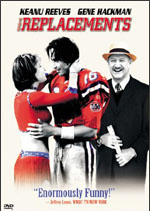 Purchase This DVD
Story / Content



Audio



Video



Extras