ROYAL TENENBAUMS, THE (CRITERION COLLECTION)
Reviewed July 5th, 2002 by Dan Jones
To start out this review I should say as a precursor that I loved Rushmore; therefore, I went into The Royal Tenenbaums with high hopes, very high hopes. Undoubtedly, Anderson has a knack at creating larger then life, yet extremely quirky characters like Max Fischer (Phantom Planet's Jason Schwartzman) and Mr. Herman J. Blume (Bill Murray) of Rushmore. Yet, with an enormous cast this time around with Tenenbaums, I had to wonder if Anderson could apply his same formula without turning the movie into a complete mess; happily enough, he did a near perfect job.

Starting it off, let's examine the cast of Tenenbaums: Gene Hackman as Royal O'Reilly Tenenbaum, Anjelica Huston as Etheline 'Ethel' Tenenbaum, Ben Stiller as Chas Tenenbaum, Gwyneth Paltrow as Margot Helen Tenenbaum, Luke Wilson as Richie 'Baumer' Tenenbaum, Owen Wilson as Elijah 'Eli' Cash, Danny Glover as Henry Sherman, and Bill Murray as Raleigh St. Clair; oh, and Alec Baldwin narrates. More or less, these are all main characters, with Royal and his children (Ethel, Chas, and Margot; all once child prodigies at one thing or another) being most quintessential. All around the acting from this cast is superb; each one falling into their character perfectly; removing the well-known actor from the viewer's perception and leaving just this completely believable character in their place.

To tell the plot of the film would not be an easy task, other then saying there are many smaller character plots all intertwined by an overall plot catalyst: Royal's "terminal" illness. As a viewer, you really have no idea where this film is going, but that doesn't matter; this is a character film, and a very good one at that. Yet, this is a film that I am sure many people will not like; it is a different kind of comedy, a different kind of film with very different characters; it depends on what you like in a movie, but I loved Tenenbaums.

As with Rushmore, Anderson has teamed up with Criterion for another fantastic two-disc release. Tenenbaums has been given quite a nice package design with two booklets with illustrations by Eric Chase Anderson that apply to the film. In addition, we have essentially two package covers, one being the cardboard slipcase, the other being the cover of the case held inside.

Video wise, Tenenbaums is presented in very wide, 2.40:1 anamorphic widescreen. This is a very solid transfer with little in the way of problems to speak of. Occasionally there is a bit of grain and perhaps an even smaller amount of edge enhancement with some compression artifacts here and there, but besides that, this is a very film like presentation. Darks and blacks are solid and deep; color contrast is great and bold, teetering on the edge of over-saturation, yet never reaching it. The picture is very detailed and overall just looks great. Another fine Criterion transfer, and a great way to show your widescreen hater friends the information they lose in their pan and scan hacks.

Audio wise, Tenenbaums is given 5.1 tracks in Dolby Digital and DTS. It is nice that Criterion took the time to add both tracks, but the difference between them is so unnoticeable due to the films not overly dynamic sonic presentation. This is a front heavy mix; yet a very solid mix in its own right. Imaging across the front soundstage and overall clarity of both tracks is exceptional. The LFE, while sparsely used, does come into play occasionally and authoritatively via the use of the film's soundtrack.

Extras wise, on disc one we have an excellent audio commentary by the film's director, Wes Anderson. This is a commentary that covers just about everything about the film, from behind the camera to behind the pen writing the script. Anderson definitely loves the film, and this commentary shows a young filmmaker's enjoyment of the art. This is a must listen.

Disc 2 stores the rest of the extras, and quite a few at that. First off, we have an excellent "film diary-esque" feature entitled "With the Filmmaker." This is a shot on location piece that runs about 25 minutes in length and gives us quite a bit of insight into the making of the film, from set design to acting to the small details that you might not pickup upon first viewing.

Next up we have interviews with a number of the cast members, specifically Bill Murray, Owen Wilson, Gene Hackman, Ben Stiller, Gwyneth Paltrow, Luke Wilson, Anjelica Huston, and Danny Glover. These are quite character orientated, running a scant two to three minutes in length.

Next, we have a pair of cut scenes with no real info about why they were cut or what they served to add to the film; just the scenes themselves..., which is somewhat odd; but still a nice addition.

The Peter Bradley Show mocumentary is quite amusing, bringing in some of the smaller new and old Anderson cast members; this is quite a funny little feature, yet runs a bit long in time at about 15 minutes. Good, but could be shorter.

Next, we have a huge "scrap book" section that gives us tons of stills from the film, as well as other material that is either found in the film, storyboards, and other supplemental items and art; definitely worth a browse. Extremely extensive.

Finally we have two theatrical trailers, both oddly tied together disallowing a select one or the other approach, rather they can only be watched back to back.

Overall The Royal Tenenbaums is a great achievement from the young Wes Anderson. While being similar to Rushmore in character quirkiness, I believe this film surpasses its predecessor overall. Tenenbaums is not for everyone, but if you are a fan of film or a fan of what some might consider odd comedy, this is your movie (if you are a fan of Anderson, you will be there on release day). Criterion has done an exceptional job with this DVD release with great transfers and tons of extras. Highly recommended.
Please help support our site by buying this DVD title through this link. Thank you kindly.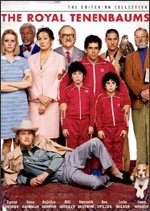 Purchase This DVD

Purchase Promo Poster

Story / Content



Audio



Video



Extras