SALTON SEA, THE
Reviewed October 14th, 2002 by David Nusair
Watching The Salton Sea, I was almost positive it was going to be yet another film about drug addicts I'd end up despising. Like Drugstore Cowboy and even Midnight Cowboy before it, The Salton Sea seemed as though it was going to revel in the very act of getting high and then expect us to actually care about these characters. It did seem that way for a while, but then Vincent D'Onofrio popped up as a noseless dealer named Pooh Bear. D'Onofrio, one of the very best actors of his generation (or any other generation, for that matter), livened up what was otherwise a dour and downbeat production up to that point and my interest was instantly piqued. This is a guy who, when we first see him, is staging a reenactment of the Kennedy assassination using pigeons (with the Jackie O. pigeon wearing a pink pillbox hat); really, how could that not elevate anyone's curiosity?

Val Kilmer stars as Danny, a speed freak who spends his days hanging with a ragtag group of fellow addicts. But, as we soon learn, he wasn't always that way; his name used to be Tom and he was a trumpet player married to a beautiful woman. After her murder, though, Tom became Danny – an undercover informant for the cops. It's there that he plans to track down his wife's murderer, but he finds himself unwittingly drawn into this sleazy world.

The opening scenes of The Salton Sea didn't hold much promise for the film, with Kilmer's character hanging out with all his junkie friends, but as the movie progresses, the plot becomes more prominent (and interesting). To be more precise, it's Danny's first meeting with the volatile Pooh Bear that brings the film out of its druggie doldrums. D'Onofrio, sporting a fake nose and buck teeth, gives an astoundingly electrifying performance that certainly takes the film to a whole different level. And even though his part is small, he infuses the film with some much needed energy – energy that makes the rest of the movie all the more compelling.

It's really a fantastic performance, one that easily dominates the movie and once again proves that D'Onofrio is the real deal. Though this review is starting to turn into a Vincent D'Onofrio love-fest, these things have to be said. However, the other actors that populate the film are quite good in their various roles. Kilmer steps into the shoes of this heartbroken trumpet player with apparent ease, giving one of the best performances of his career. But really, this is D'Onofrio's show. He apparently gained 45 pounds for the role, and his schlub-type appearance is perfect for the character.

Having said that, Caruso does deserve some recognition for his directorial choices – which are stylish without ever becoming intrusive. There's a moment late in the film where Danny has to figure out how many rounds are left in a gun, and Caruso inserts a rapid-fire count of each bullet being shot. Interesting stylistic elements like that, combined with D'Onofrio's simply jaw-dropping performance, make The Salton Sea worth a look – even if you're not ordinarily a fan of movies about the drug scene.

Audio: The Salton Sea is presented with a DD 5.1 soundtrack, and – given that this is a Warner release – it should come as no surprise that it's excellent. Though surround effects are limited, the sound is crisp and clean.

Video: Ditto the 1.85:1 anamorphically enhanced transfer. This must've been a complex film to transfer, with the variety of grainy sequences and dark moments – but Warner's pulled it off brilliantly. There's nary a speck of film grain to be found here.

Extras: There's not much here in the way of extras, but kudos to Warner Bros. for included something (unlike, say, Paramount). First up is a short featurette called "Embracing the Chaos: A Conversation With the Cast of The Salton Sea," which is exactly what the title indicates. The actors and director talk about making the movie, and how they got into the skin of these unappealing characters. Also included is a featurette called "Meth and Method: The Production Design of The Salton Sea." This one is actually pretty interesting, in that it details how the various sets were constructed. A trailer and some cast/crew notes round out the disc's content.

Conclusion: The Salton Sea is an effective thriller, featuring an incredible performance from D'Onofrio.
Please help support our site by buying this DVD title through this link. Thank you kindly.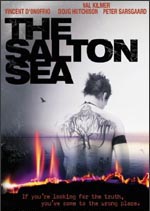 Purchase This DVD
Story / Content



Audio



Video



Extras