SCORE, THE
Reviewed January 18th, 2002 by Dan Jones
"When was it you started thinking you were better than me?"

Marlon Brando, Robert De Niro, and Edward Norton... three of the top actors spanning their respected generations... what more can you ask for in a cast? With a booking like this, you can only assume that the movie they are a part of will be phenomenal; of course setting expectations so high will only make one disappointed in the end; for me, The Score fell into this category... somewhat.

For the most part, The Score is a cookie-cutter cops and robber story that is graced by an excellent cast and top-tier acting. Robert De Niro plays Nick Wells, a near-retirement master thief who ends up caught up in the "one last job" ideology. Edward Norton plays aspiring thief Jack Teller by night, and a feigning mentally handicapped janitor-helper named Brian who infiltrates the Montreal customs house to steal a French scepter, which they came into possession of almost by accident. Marlon Brando comes in as the puppet master of sorts, a long time friend of Nick, dealing with the cash handling, and budgeting the route to "the score."

As with other movies of the sorts, things are not always as they seem; and personal goals tend to blur the partnerships between these three lead characters. Overall, the Score might not offer much more then you have seen in other caper flicks; but what you do get is acting that is near the top of the line. Edward Norton puts in an exemplary job as the cocky young Jack Teller, and an astounding performance as Brian, while De Niro and Brando have great onscreen chemistry throughout.

I am somewhat torn on my view on The Score. When I first saw it in the theaters I thought it was a very solid film, and I still believe that it is, but after watching it for the second and third time I started to become a little bit disappointed with aspects. Admittedly, I expected a movie of the quality of the Michael Mann epic Heat, yet, there really is not too much going on in the film. The job gets setup, preparation takes place, and the job is attempted and things go awry, little more, little less. With any other actors this movie would be a great achievement, with the cast Frank Oz was able to put together I cannot help but want more from the film.

All this being said, The Score was still a movie that I required to end up in my vastly expanding DVD collection. Unfortunately, the DVD ended up leaving me quite disappointed, and leads me to believe that this is one of those films that might be released again in the future (perhaps?). Let's take a closer look.

For video, The Score is presented in 2.35:1 anamorphic widescreen. Frankly, I was disappointed with this transfer. First off, the image is a bit soft, hurting any real sharp detail, along with the common misuse of edge enhancement to sharpen up a soft transfer, making edge halos all too common. Besides that, the source the transfer was taken from seems to have some minor scratches or marks here and there, but overall reasonably clean. Colors are fairly good, yet the movie is a bit overly dark in areas, which of course has adverse effects on shadow detail. This is not to say that this is a bad transfer, but I must say it is just slightly above average, and goes to back my conspiracy of a possible re-release (or I could just be crazy)

Audio wise, The Score gets a 5.1 Dolby Digital track, as well as a 2.0 Dolby Surround track. The 5.1 mix is not incredibly active, yet seems very well done given the aspects of the movie it must present. Musical elements are mixed nicely, and the track has very nice imaging and detail to its presentation. Surround elements are used rather sparingly, but do pop up here and there. Overall, this nice 5.1 mix does the movie justice just fine. Also included is a 2.0 French track, as well as English captions.

The extras provided on this disc were the big source of my disappointment in the disc itself. First off, we have The Making of the Score. This is an overly fluffy, useless presentation, especially for those that have already seen the film as it will offer no further insight, rather just regurgitate what you already know. For those that have not seen the film I can only see this presentation giving away too much into the film and wasting the experience of actually watching the movie. This is truly not a making of, more like a plot outline if you will, and runs a scant twelve minutes.

Next, we have some deleted/alternate scenes to view. One of these scenes is somewhat interesting, in which we get to see some improvisation (three takes in all) between Marlon Brando and Robert De Niro, when Brando's character tries to get De Niro to take this one last job. If nothing else this scene just gives us a look at two phenomenal actors showing their skill. The two other deleted scenes offer little to no more insight into the movie.

Finally, we are given the theatrical trailer shown in non-anamorphic widescreen. Not many extras for a movie that grossed near 100 million dollars in theaters, correct?

Overall, The Score is a very solid movie with a great cast and a relatively good story. This film truly provides us with an avenue to see three of the best actors of the time, something that rarely ever comes around. If you are a fan of film and have not seen The Score, then you should definitely check it out. If you are a fan of any of these actors, (and how isn't?) this is a necessary purchase. Even with the DVDs downfalls in video and extras I still advise picking this title up. Recommended.
Please help support our site by buying this DVD title through this link. Thank you kindly.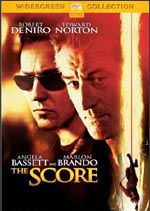 Purchase This DVD
Story / Content



Audio



Video



Extras