WATCHER, THE
Reviewed March 4th, 2001 by Len D. Martin
Cast: James Spader (Joel Campbell), Marisa Tomei (Polly), Keanu Reeves (David Allen Griffin), Ernie Hudson (Ibby), Chris Ellis (Hollis), Robert Cicchini (Mitch), Yvonne Niami (Lisa), Jenny McShane (Diana), Gina Alexander (Sharon), Rebakah Louise Smith (Ellie), Joseph Sikora (Skater), Jill Peterson (Jessica), Michele DiMaso (Rachel), Andrew Rothenberg (Jack Fray), David Pasquesi (Norton).

Director: Joe Charbanic.

Story: Joel Campbell is a burned out FBI agent who has moved from Los Angeles to Chicago. His life is a mess. He suffers from migraines so bad that he as to inject himself with medication to kill the pain. His apartment is a mess just like his life. When we first see him he is in therapy with his psychiatrist, Polly. He has moved to Chicago from Los Angeles because he has not been able to catch serial killer David Allen Griffin and this is haunting him. Then one day a woman is murdered is in apartment building. He thinks nothing of it until he opens his mail and finds her picture in it. He then joins forces witrh the Chicagopolice to hunt her killer. Later that day he receives a call. Griffin has followed him to Chicago and has sent him the picture. He will continue sending him pictures of the women he plans to kill and gives him until 9:00PM the next night to stop him. Now begins a game of "cat and mouse" with Griffin taunting Campbell to catch him and Campbell pursuing his prey.

Audio: Presented in English and French Dolby 5.1 Surround and Captioned English Subtitles. Excellent quality!

Video: Presented in Anamorphic 1.85:1 Widescreen - Enhanced for 16x9 televisions. Excellent Quality!

Extras: Production Notes - with information on the making of the film and the story that influenced it; Cast and Filmmakers - biographies and film highlights; Special DVD-ROM Features - including Animated Screen Savers with Sound, Thematic Wallpapers, and Access to exciting interactive web links: Theatrical Trailer.

Comments: I was surprised at this film. It was very good and Reeves was well cast as the serial killer. A change of pace for and he did a good job.
Please help support our site by buying this DVD title through this link. Thank you kindly.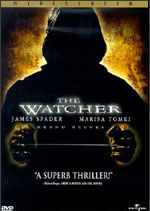 Purchase This DVD
Story / Content



Audio



Video



Extras