WHOLE NINE YARDS, THE
Reviewed August 14th, 2000 by Brian White
It's hard not to root for Matthew Perry. He's the most likeable and funniest "Friend," and he really deserves a hit movie to evolve his career. The Whole Nine Yards isn't his big break, but it is surprisingly funny if you come to it with modest expectations. Perry is given plenty of opportunity to be a nice, likeable guy who does lots of physical comedy (although his declaration of love for his romantic lead at the end is difficult to stomach). Hey, who can complain about a guy who wears an Ottawa Senators shirt in Montreal?

Perhaps this is your reviewer's bias speaking, but after having so many films shot in Canada, it's nice to see a Canadian city portrayed as itself in a movie; rather than New York or Chicago. As a Canuck, I like seeing the familiar sites, and seeing American characters feel the same fish-out-of water experience that English-speaking Canadians feel in Quebec. Ultimately, if this film were set in New Jersey, the group that watched the disc in my basement might not have been as entertained.

Perry's character, Oz, is an American dentist who must live in Montreal with his bitchy Quebecois wife and her mother in order to pay off his father-in-law (who was his ex-business partner)'s, debts. Rosanna Arquette does a very good petite salope, but she has a Parisian accent, rather than a Quebec one. Still, it's great to see a big Hollywood actress playing a pea souper. Next time this happens, the actor should listen to Celine Dion's accent.

All is miserable for Oz, and then Bruce Willis' Jimmy "the Tulip" shakes up the equilibrium. The Tulip is a mob hit man, hiding out in Canada. He moves in next door to the unhappy dentist, and is immediately recognized. What follows is a black, sometimes very funny farce. It's a big puzzle about who's trying to screw whom over. It all plays out very well, and is a fun ride.

Willis is his funny self. Despite being quite evil in a comic-book sense, he is as likeable as Matthew Perry's character.

The anamorphic, 1.85:1 transfer is quite crisp and pretty. This is a reasonable budgeted Hollywood film, and it shows in this great transfer.

The 5.1 mix is also very good. The movie really fills up all of the speakers, without being distracting.

Extras include a running director's commentary and cast interviews.
Please help support our site by buying this DVD title through this link. Thank you kindly.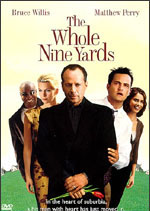 Purchase This DVD
Story / Content



Audio



Video



Extras