THINGS YOU CAN TELL JUST BY LOOKING AT HER
Reviewed February 4th, 2002 by David Nusair
Things You Can Tell Just by Looking at Her was initially slated for a theatrical release a couple of years ago. A trailer was released and posters could be spotted at movie theaters. But then something happened – apparently some executives at MGM got jittery about releasing a movie without any teenagers or car crashes – and the flick wound up debuting on video. Which is a shame, really – this is an intelligent and well-acted flick that easily stands out from the big-budget blow-'em-ups and juvenile teen comedies.

Featuring a cast of Hollywood's most talented female actors, Things You Can Tell Just by Looking at Her tells five separate stories that occasionally intersect. Glenn Close stars as a lonely abortionist that seeks out the advice of a fortune teller (played by Calista Flockhart) who's having some personal problems of her own – her lover (Valeria Golina) is slowly dying of cancer. Amy Brenneman stars as a detective whose blind sister (Cameron Diaz) seems to have more luck with men than she does. Holly Hunter appears as a successful banker who, after discover that she's pregnant with her married lover, decides to have an abortion (Close just happens to be her doctor). Finally, Kathy Baker shows up as a bored housewife who finds herself inexplicably drawn to her new neighbor – a man that just happens to be a midget.

Things You Can Tell Just by Looking at Her unfolds slowly, much like a novel. When each individual story is wrapped up, there isn't always a big revelation to be had. We're witness to a few moments in the lives of these very different women. And while the movie doesn't exactly whiz by like a freight train, the slow, deliberate pace is entirely effective.

And of course, some of the stories are more compelling than others. The Flockhart/Golina storyline is more morose than anything else, and doesn't really provide any insights into living with a terminal illness. On the other hand, both the Baker and Diaz tales are fascinating looks at flawed women. Diaz, in particular, is quite compelling as a blind woman that tends to overcompensate for her disability by saying whatever pops into her head and sleeping with a lot of different men. Brenneman, as her sister, is treated like dirt by her but is essentially powerless to do anything about it, because who wants to admonish a blind girl?

But in terms of acting, there's no question that Hunter provides the best performance. As the bank manager whose biological clock is approaching its end, Hunter has to run a gamut of emotions (especially once she decides to go forth with the abortion). Had this been a theatrical release as intended, there's no question that Hunter would have garnered an Oscar nomination.

Things You Can Tell Just by Looking at Her is often quite difficult to watch, pummeling us with real emotions. But it's for that very reason that it's worth checking out.

Audio: The movie is accompanied by a 5.1 DD soundtrack, but since the majority of the flick is entirely dialogue, the sound remains mostly in the front speakers. But it's always crisp and clear, so what else do you want?

Video: This 1.85:1 anamorphic transfer is just okay. There are a lot of film-related artifacts that should have been cleaned up. It's not too distracting, though. But it is disappointing, especially given that this film didn't even go to theaters.

Extras: A trailer.

Conclusion: This is a challenging and though-provoking film. Don't miss it.
Please help support our site by buying this DVD title through this link. Thank you kindly.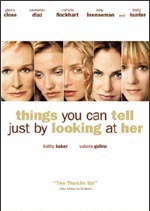 Purchase This DVD
Story / Content



Audio



Video



Extras