THIN RED LINE, THE (DTS)
Reviewed March 11th, 2001 by Todd Terwilliger
Terrence Malick's The Thin Red Line (TRL) was overshadowed theatrically by the Spielberg juggernaut, Saving Private Ryan. However, on DVD, one has ample opportunity to discover this brilliant, if flawed, World War II opus.

The story splits time between several members of C Company as they join the assault on Guatelcanal. Most prominent of these is James Caviezel as Witt, an AWOL prone private who sees beauty amid the war's madness.

Malick juxtaposes the incredible natural beauty of the pacific island with the battles raging through it. Voice-overs by the various characters provide a stream-of-consciousness commentary on their mental state. The commentaries, however, vary in their realization. It is also often difficult to determine which character is speaking and the free-flowing style may put off some.

There are so many celebrity co-stars it would take up too much space to list them all. Some have fairly major roles while some last little more than a moment. Nick Nolte gives a brilliant turn as Lieutenant Colonel Gordon Tall who, hungry for honors and promotions, pushes C Company mercilessly forward. Elias Koteas is also strong as C Company's captain who opposes Tall's tactics.

The 2.35:1 anamorphic video transfer is clean. There is good color separation across the lush shades of green prevalent on the jungle island. Skin tones are realistic and well rendered, preserving the dirt-worn look of the soldier's faces. Dirt and scratches are almost non-existent. This is a good looking film.

The film sounds good as well. You have the choice between a DTS soundtrack, a Dolby Digital 5.1 audio track, and a Dolby Digital 2.0 track. The DTS track shines particularly well. The sound is tight, with nice depth through the LFE channel. Dialog is almost universally locked in the center channel, however there is good movement across the front and rear soundstage by special effects.

The original release of TRL on DVD was a Dolby Digital 5.1 only release and featured a set of Melanesian songs as an extra feature. On this release, to make room for the DTS mix, the songs have been dropped, leaving no extra features at all. For those looking for anything beyond the film itself, you are apt to be disappointed.

The Thin Red Line is a movie that grows with repeated viewings. Fans of the traditional straight ahead war film may be disappointed with the metaphysical focus of the film and its somewhat disjointed flow. However, others may applaud the poetic symbolism and the contemplative tone. Either way, The Thin Red Line is a picture with a grand purpose. Even if it may fall short, the experience is well worth viewing.
Please help support our site by buying this DVD title through this link. Thank you kindly.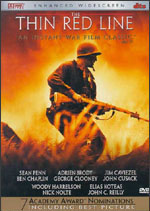 Purchase This DVD
Story / Content



Audio



Video



Extras