THREE MUSKETEERS, THE
Reviewed August 29th, 1999 by Staff
"All For One and One For All"

Back in 1993, Walt Disney Pictures released this fine adventure movie. The movie stars Charlie Sheen, Kiefer Sutherland, Chris O'Donnell, Tim Curry, Gabrielle Anwar, Rebecca De Mornay, Oliver Platt and more.

This is a classic story of betrayal. The King of France is a young man. His royal advisor wants to take over as the King. To do so, he must first get rid of the might Musketeers, who have sworn to protect the King. When they are disbanded, three lone Musketeers [Aramis, Athos, Porthos] do not obey orders. Meanwhile, a young man named D'Artagnan [O'Donnell] rides to Paris to become a Musketeer like his father before him. D'Artagnan teams up with the remaining Musketeers and the fight is on to save the king from certain doom.

Overall, the movie is an exciting adventure with many smaller plot lines. Oliver Platt brings a lot of good humor to the movie. Do not let the PG rating deceive you. There are some intense moments in this film and lots of death and violence, however very little blood is actually shown.

The DVD is presented in 2.35:1 aspect ratio and is not 16x9 enhanced. Overall, the picture quality is very good, however it is not the best transfer out there. The image is not as sharp as newer movies, but there does not seem to be any transfer problems. Colors, blacks and sharpness are quite good.

The audio is presented in DD 5.1 which was a good surprise. This quality is very good, but no split surrounds could be heard and this movie will not give your sub an active workout (though you can hear it sometimes). Dialogue and music seem very clear. Overall, the audio never seems to have any problems.

Supplemental materials include a production featurette and the music video by Rod Stewart, Sting and Bryan Adams called "All For Love".
Please help support our site by buying this DVD title through this link. Thank you kindly.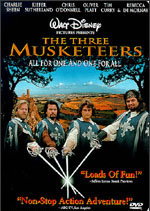 Purchase This DVD
Story / Content



Audio



Video



Extras