THUNDERBALL (SE)
Reviewed November 10th, 1999 by Staff
Thunderball was the 4th James Bond film released, and the other Connery film in the first wave of DVD releases, behind Goldfinger. It's release followed one year after the phenomenon which was Goldfinger, THE James Bond film. Thunderball continued with Goldfinger's magic and became the most successful Bond film of the 60s.

The story, which was mostly lifted for 1984's Never Say Never Again, finds Bond tracking down some stolen nuclear bombs. Specter, the Evil Global organization, is ransoming the British and American governments for the return of the bombs... Otherwise, BOOM! It's hard not to snicker at many aspects of Thunderball in the post-Austin Powers world.

Thunderball is no Goldfinger, or Goldeneye for that matter; but it's still a great Bond film, and worth any fan's time. It's all Aston Martins, casinos, martinis and chicks. Connery is at his Connery best. AND, there's a Tom Jones song over the credits.

The picture on the Thunderball DVD is quite notable. MGM has done a remarkable job in this anamorphic widescreen transfer. More than just suitable for DVD, the picture defies the age of the film. It doesn't look as good as the new films, but only because the filmmakers didn't have the cameras and film available today. There are noticeable scratches, or blemishes, but they are few. Colors are very good.

Unlike Goldfinger, Thunderball has been given a 5.1 mix. While not as dynamic as the mixes on more recent Bond films, the car and jet sounds fly off into a corner of the room. Other than that, there is some atmospheric fill to the spit surrounds. The mix is worth mentioning only because MGM took the effort to do it.

As for extras, Thunderball is fantastic. Two audio commentaries are included, featuring the director, cast and crew. While not screen specific, information from interviews is stitched together by a narrator. This form of commentary is not as useful as listening to a filmmaker watching his or her work, but it offers much insight into the making of the film. There are 2 documentaries: The "Thunderball Phenomenon," "The Making of Thunderball," and a featurette pointing out some differences between various releases of the film (Note: The "Thunderball Phenomenon" and "The Making of Thunderball" are mislabeled on the menus. When you select one, you get the other). Also included in the package are TV and Radio spots, Trailers, many stills, and an ad for the Playstation game. There's enough here to overwhelm any obsessive Bondophile.
Please help support our site by buying this DVD title through this link. Thank you kindly.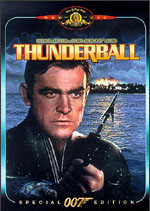 Purchase This DVD
Story / Content



Audio



Video



Extras