THUNDERBOLT AND LIGHTFOOT
Reviewed August 27th, 2002 by David Nusair
Thunderbolt and Lightfoot doesn't really go anywhere unique or original – when you get right down to it, the film is about a couple of bank robbers – but the movie is surprisingly entertaining due mostly to the two central performances.

Clint Eastwood stars as Thunderbolt, a retired criminal who's spending his days working as a preacher in a small town. He's unwillingly thrust back into the open when a former partner in crime named Red (played by George Kennedy) opens fire on him during a sermon. While making his escape, he hooks up with a young man named Lightfoot (Jeff Bridges), who's just stolen a car. As the two spend some time together, they learn that they have more in common than they may have initially suspected. Lightfoot convinces Thunderbolt to rob one more bank, with the help of Red and another old associate. The remainder of the film essentially details the gang's planning and execution of the robbery.

Thunderbolt and Lightfoot was written and directed by Michael Cimino a few years before he would go on to make the infamous bomb Heaven's Gate, and it's completely free of the excess that plagued that film. This is a simple story with interesting characters, told in a laid-back fashion. Like most movies produced during the 1970s, Thunderbolt and Lightfoot employs a pace that films today rarely employ. More specifically, it's slow (or, for you pretentious readers, deliberately paced). But unlike a good portion of that generation's flicks, the leisurely manner in which the story unfolds suits the movie.

While Eastwood is as good as you'd expect, this is really Bridges' show. As the slightly dim-witted Lightfoot, Bridges steals every scene he's in and his enthusiasm is a lot of fun. Cimino gives Bridges the time and the room to establish this character, and his chemistry with Eastwood probably inspired a lot of contemporary buddy flicks. The film only falters in the end, which is surprisingly downbeat; a tone which doesn't really fit with the rest of the movie. Still, Thunderbolt and Lightfoot is an easy going flick, and will no doubt please fans of the two leads.

Audio: This 2.0 mono soundtrack is serviceable enough, but won't exactly win any awards. Though there are some instances where surround sounds would be welcome, the sound remains firmly in the front end. The dialogue is crisp enough, so on that level, the track works.

Video: This non-anamorphic transfer (2.35:1 ratio) is slightly better. The transfer is surprisingly free of a lot of film-related artifacts, so this movie probably has never looked better on home video.

Extras: A badly-aged trailer.

Conclusion: Thunderbolt and Lightfoot is an easy-going romp. Check it out.
Please help support our site by buying this DVD title through this link. Thank you kindly.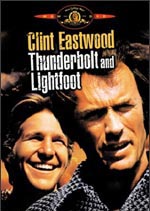 Purchase This DVD
Story / Content



Audio



Video



Extras