TITANIC
Reviewed September 6th, 1999 by Staff
Titanic one of this years most anticipated DVD's! Why you may ask? Well mainly because it took nearly a year and a half to have Fox release this title. They saturated the market with VHS both widescreen and pan and scan versions and are just now releasing this historic movie on DVD. Don't take this the wrong way but it seems that Fox knew that this title was a money boat, so to speak, and was going to make sure it did no sink before off loading all they could get for this little gem. Enough with politics and on with the review of an outstanding movie. Most everyone, unless they lived in a cave, has seen this movie in the theaters. The classic love story of a woman trapped by her social status and her mother's need for her daughter to marry well in order to assure their families existence. Kate Winslow "Rose" is this trapped woman that runs into Leonardo DiCaprio a commoner. He saves her life and they soon start the romantic, passionate courting. Soon she, Rose, is drinking, dancing and posing nude for the young Leonardo. All is good as the passion runs wild until Titanic collides with an iceberg and begins to slowly sink. What once was an unlimited love affair now becomes a struggle for survival. An excellent movie that has secured its place in movie history as one of the best. We just wish we would have seen it on DVD a bit earlier!

Does the transfer live up to the name Titanic? Frankly, no it does not. While the transfer is average to above average in quality, a title like this deserves nothing but the best transfer available which would have been an anamorphically enhanced widescreen version and we are not given that. What we are treated to is a widescreen version with an aspect ratio of 2.35:1 as was the theatrical presentation. The movie while fairly clear and vibrant is not the best that DVD has to offer and was a bit of a disappointing. Titanic does look better then what was presented in the movie theater or on VHS so don't discount the quality, just know it is not the best that is available on DVD.

Wow! The audio is remarkable! The Dolby Digital 5.1 sound track is one of the most active audio tracks available on DVD! All 6 channels will make your heart race with every beat of music and every word that is spoken. This sound track is definitely worthy of the name Titanic!

Extra's are limited to only a theatrical trailer! BOO!!! There is such a desire for extra's one would guess that a special edition on DVD-18 could not be far off! Overall a great movie, a good transfer, and superb audio makes this title a must have!
Please help support our site by buying this DVD title through this link. Thank you kindly.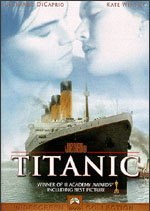 Purchase This DVD
Story / Content



Audio



Video



Extras