TOOTSIE
Reviewed May 30th, 2001 by John Randall
"No, we are not friends! I don't take this shit from friends. Only lovers."

What do you get when you mix a very funny romantic-comedy with Dustin Hoffman who dresses up as a woman, direction by Sydney Pollack, and other stars like Jessica Lange, Teri Garr, Dabney Coleman, Charles Durning, and the great Bill Murray (and not to mention 10 Oscar nominations)? You get Tootsie of course!

Hoffman plays Michael Dorsey - a man with a problem: he has talent as an actor but can't find a job! Changing his name to Dorothy Michaels (and of course dressing like a woman), Michael gets the role of a lifetime on a soap opera - as a female no less. And what do you do if you fall in love with a female co-worker while posing as a woman? And what do you do when the father of the womain you are in love with decides he is in love with you?

I hadn't seen this movie in quite a few years so most of it was all new to me. Bill Murray really stands out in this film and if nothing else, his performance alone is worth sitting through the movie. There are many individuals and critics out there that just didn't "get" the movie. I feel for them. This really is more than just a laugh fest if you sit back and think about it.

This truly is an 80's comedy classic.

The video on the DVD is presented in 2.35:1 anamorphic widescreen and 4:3 pan&scan. The widescreen side looks pretty good - but looks rather dated. However, check the film on TV next time you are channel surfing if its on and you will see that this was a major improvement! The hack&scam (pan&scan) side of the disc will be fine for those "blackbar" haters.

The audio is presented in Dolby Digital 5.1 and a mono soundtrack as well. Both sound about the same, with the 5.1 being a bit better. Cudos for Columbia TriStar for taking the time out to include a 5.1 mix anyway!

Extras include various trailers and talent files.

Overall, this is a great movie and a pretty good disc. More extras would have been nice, but at least we have the DVD afterall. Bill Murray and Dustin Hoffman just rock!
Please help support our site by buying this DVD title through this link. Thank you kindly.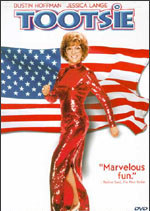 Purchase This DVD
Story / Content



Audio



Video



Extras