TOY STORY: THE ULTIMATE TOY BOX
Reviewed January 21st, 2001 by Brian White
OK. I get tired just thinking about how much stuff is crammed onto this package of DVDs from Disney and Pixar. When they set out to be exhaustive, they mean it. The two-disc set for A Bug's Life seemed to contain everything that could be included as support material for a movie. Along comes Toy Story: The Ultimate Toy Box. Anything a fan of these movies could ever hope to learn about the process of animated filmmaking is contained here.

If you are buying these movies for your kids (and not yourself), you might consider the less expensive, two-disc set. The two-disc set contains fewer extras, but boasts the "reframed" version of Toy Story 2. There is a planned release of Toy Story and Toy Story 2 on separate discs in the spring of 2001. If you are buying these movies for yourself, put out the cash for this fantastic collection.

Toy Story is a major advance in animation. It is the first feature-length animated movie made entirely from computer animation. Pixar Studios, through a partnership with Disney, produced this modern classic. Not only is the computer animation a vast departure from the look of standard animation, but also the film is funny, with a lot of heart. In the story, a child (Andy)'s toys come to life, when no one's looking. Tom Hanks voices Woody, a cowboy doll from a bygone age. Tim Allen is Buzz Lightyear, the most amazing action figure that every kid must own. The story centers on the tension between Buzz and Woody. Other toys in the movie are brilliantly cast, especially Don Rickles as Mr. Potato Head.

Five years later, comes the sequel. Toy Story 2 was one of several direct-to-video sequels planned for recent Disney classics. While the traditionally animated cartoons were outsourced to studios around the world, Pixar was the only studio capable of replicating the style of the first film. Given their attention to quality, and the advances made in their craft, Pixar felt that Toy Story 2 deserved better than the ghetto of direct-to-video release. The film shaped up to be very funny, and very good. Toy Story 2 was released theatrically at Thanksgiving 2000, and made Disney and Pixar a huge amount of money. In fact, Toy Story 2 is arguably a better film that the first picture (your reviewer's bias). In Toy Story 2, Woody is stolen by a toy collector, and learns about the 50's kids show in which he starred, and he meets his toy "family." The film involves the other toys searching Woody out, and Woody's decision of whether to take his place with the other toys in a museum, or to return to Andy's room.

The video is, of course, outstanding. The 1.77:1 anamorphic transfers are truly wonderful. These films are direct digital-to-DVD transfers. Pixar took the info straight off their computers and burnt it onto DVDs. Other DVDs (and DreamWorks must be kicking themselves for doing this to Antz) are taken from film, and are somewhat flickery as a result. These two movies are rock solid on the screen. There are no scratches or dirt visible either. The result is incredible.

The audio mixes are every bit as wonderful as the transfers. Toy Story's 5.1 mix is a great workout for your system. Toy Story 2 is an audio demonstration disc. Also of note: Toy Story 2 contains a matrixed center surround track. It is the most active EX mix that this reviewer has heard. As well, the cow THX demo is available to make the case for EX.

The discs are THX certified, and contain a helpful THX Optimode setup test.

Now, onto the huge number of extras:

Throughout the set, we meet Pixar's cast of magicians in introductions to the bonus material. John Lasseter, head magician, is really enthusiastic about his job. His enthusiasm is infectious, and it's hard not to be jealous of how much this guy loves what he does, if not jealous of his taste in shirts. The Pixar folks are very fond of DVD, and this disc allows some of the cooler DVD features, like multiple angle viewing. They didn't throw away anything during the making of these films, and it's all here. I'm surprised that inter-office memos weren't included as well.


Disc One:

- Toy Story

- Tin Toy, the Academy Award winning short film produced by Pixar in 1988. There is discussion about this short, and how it grew into Toy Story, in the documentary footage.

- Audio Commentary from the proud and enthusiastic film makers

- An informative, and very thorough (until you see the one on the 3rd disc) documentary on the making of the film.

- A multi-language reel

- Promotional material, like trailers, and "interviews from the set" with the characters

- Toy Story Treats, or interstills used on ABC between Saturday morning cartoons. There are an insane number of these little shorts. Some are very funny. It sounds like they hired voice talent to imitate the stars.


Disc Two:

- Toy Story 2

- The Academy Award nominated Luxo Jr. short. This film is the origin of the jumping lamp from Pixar's intro.

- Audio Commentary from the filmmakers.

- "Outtakes," like those on A Bug's Life


Disc Three:

Disc three is divided into two sections containing parallel areas for both movies. The following is included for both films:

- "Making of" featurettes, which go through the entire history of the production of the films. This info is even more thorough than the documentary on disc one.

- Promotional material

- A very cool, multi-angle progression reel, which allows the viewer to flip between storyboard, crude animation, and the final version in real time, as the sequence progresses.

- Deleted animation, concepts, demos, etc.

- More promotional material than you can shake a plastic dinosaur at.

- Guides to hidden jokes

- Music Videos

- And even MORE!


The packaging is very cool. The discs (in snapper cases) and a map to all the extras come in a silver box with character outlines for artwork. A plastic slipcase is included which, when slipped over the box, completes the character artwork from the line drawings on the box.
Please help support our site by buying this DVD title through this link. Thank you kindly.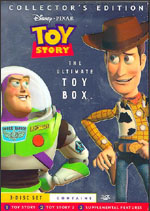 Purchase This DVD
Story / Content



Audio



Video



Extras