TRIGGER EFFECT, THE
Reviewed June 28th, 2001 by David Nusair
How would you react if the power went out? You probably wouldn't panic. But what if it stayed out, and the phones didn't work either? A little bit worried? Now, imagine that even your radio doesn't work, so it's completely impossible to find out what's going on. Take that frightening scenario and you have The Trigger Effect.

Kyle MacLachlan and Elisabeth Shue star as Matthew and Annie, a happily married couple that find themselves in the midst of said scenario. Little things like medication for their sick baby become huge obstacles, with the added burden of having to deal with their ne'er-do-well high school friend (played by Dermot Mulroney). Written and directed by David Koepp (the acclaimed screenwriter responsible for such big budget extravaganzas as Jurassic Park and Mission: Impossible), The Trigger Effect is more of an examination of how easily the walls of society can break down rather than an action movie or thriller. Koepp is more interested in how these seemingly normal people will react to such extraordinary events. And while the film is a little bit uneven (with some sequences going on much longer than they need to), The Trigger Effect is regardless a fascinating and terse look at the breakdown of common decency during a time of crisis.

Audio: The Trigger Effect is presented in Dolby Digital 5.1 surround and while it does sound exceptionally clean and crisp, this isn't exactly demo-disc fodder. While there are occasional sequences featuring excellent surround effects (just check out the very first scene, featuring two wolves, for a great example of this), most scenes are quite quiet and thus don't employ the rear speakers. Your subwoofer will find itself very lonely during the 94 minutes it'll take you to watch this.

Video: Anamophically enhanced at 1.85:1, the video on The Trigger Effect is similarly quite good. Most of the film takes place in extremely low-light situations (there's no power, hence many scenes are candle-lit), and this transfer is up to the challenge.

Extras: Luckily the movie's so good, because there isn't much in the way of extras. You get the trailer, full screen, which is fairly good looking. It's surprisingly grainy, but it's passable. You get a couple of pages of production notes which are pretty interesting, but a further analysis of the themes in the movie might have been nice. There's also some biographies on the cast and director, but these are strictly perfunctory. There's nothing new to be learned there. Finally, there's a link to the Universal home page, for those of you with DVD ROM players.

Conclusion: A thinking-mans thriller, The Trigger Effect is just the sort of intelligent flick that is sorely missing from theaters these days. Give it a spin - you won't be disappointed.
Please help support our site by buying this DVD title through this link. Thank you kindly.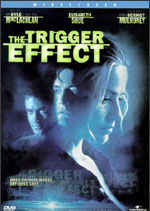 Purchase This DVD
Story / Content



Audio



Video



Extras