WORLD IS NOT ENOUGH, THE (SE)
Reviewed May 29th, 2000 by Brian White
Pierce Brosnan returns in his third James Bond movie. While not as good as Goldeneye or Tomorrow Never Dies; TWINE contains some great Bond action, and is a very different film from the other two. Brosnan is well at home here. In fact, when this film was released, the "Pierce better than Connery" statements seemed a little less blasphemous. The plot is more complex than what is standard for a Bond film and there's a bit of "who's the bad guy?". MGM takes advantage of Judi Dench's recent fame, and pushes M into the story. Robbie Coltrane returns as the Russian gangster from Goldeneye, and Robert Carlyle plays the villain that literally has no feelings. Sophie Marceau is quite good as one Bond girl, while Denise Richards pushes the envelope of belief-suspension by playing a nuclear weapons specialist. If you haven't seen the film, I'll not give away the identity of Q (Desmond Llewelyn)'s assistant.

Goldeneye and Tomorrow Never Dies are demonstration discs. This film is on par, if not better than the other two in terms of what DVDs should look and sound like. The 2.35:1 anamorphic transfer is beautiful. The whole movie is pure eye-candy. The 5.1 mix is completely over the top, like the rest of the film. The floor will rumble, bullets will fly from everywhere and lots of stuff blows up.

All of the Bond DVDs have a generous supply of extras, and the MGM-spoiled viewer gets everything expected from this DVD: Commentaries, documentary, the interesting Garbage video, and a feature similar to the White Rabbit business on the Matrix disc which allows the viewer to select a "behind the scenes" view of the making of given sequences.

Sadly, unlike the Region 2 DVD and VHS release, there is no mention of Desmond Llewelyn's death. Perhaps the next theatrical release will have some sort of tribute.
Please help support our site by buying this DVD title through this link. Thank you kindly.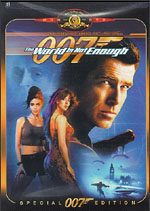 Purchase This DVD
Story / Content



Audio



Video



Extras