TWIN PEAKS: THE FIRST SEASON
Reviewed December 18th, 2001 by Dan Jones
"Who killed Laura Palmer?"

Created by David Lynch and Mark Frost, Twin Peaks was one of those shows that was just "too much, too soon" for its time. Running only thirty episodes in its entirety Twin Peaks broke new ground for future, similar, series to run successfully such as The X-Files, Northern Exposure, and even Ally McBeal. The show aired way back in 1990, and brought us some very interesting characters, and the plot that lead us towards the murderer of Laura Palmer.

I have to admit that I had only seen a couple episodes before getting my hands on the season one DVD package. After sitting down and watching the seven episodes included on the box set I walked away very, very impressed; eager to pick up into the second season. Perhaps the fatal flaw to the Twin Peaks formula was that if you were to miss one of the episodes, you would be very, very behind. Shows like this are often times hard to follow and leave the viewer with little interest to watch future episodes if they have been lost in the advancement of the plot. Take 24 for instance, a brilliant show in my eyes, but after missing a couple episodes, it is hard to pick back up. Yet, shows like this, in which each episode greatly advances the plot, are portrayed perfectly on DVD sets like this... Twin Peaks is no different. Unfortunately, finishing in its second season, we are not able to get too far into Lynch's true vision of Twin Peaks.

As I said before, this season one box set of Twin Peaks contains seven episodes from the original airing of the show. What we do not get is the two-hour pilot, due to the fact that Artisan does not hold the rights to the pilot episode. Nicely enough, the pilot has been released on DVD, if you can find it out there. Although this is an inconvenience, it's just one of those things that have to be accepted.

For the DVD, Artisan has supplied us with a very, very good package. Exemplary sound and video, coupled with a ton of interesting extras and commentary's makes this package perfect for any fan of the show; a must own. The first season is spread over four DVDs, which is quite impressive due to the fact that there are only seven episodes. Let's take a look closer as to why this is...

On the audio side of things, this Twin Peaks went way over my expectations. Not only do we get the standard Dolby Digital 5.1 mix present in some TV-series release DVD box sets, we also receive the a full 5.1 DTS mix for all the episodes. We are also supplied with a Dolby Surround 2.0 track. Overall, both these tracks do a very good job of presenting the show in subtle surround sound, while keeping the sound score very immersive. Both 5.1 mixes do a very good job, yet I'd have to give the top mix to the DTS track for slightly richer sound with a bit more detail then the Dolby Digital counterpart. Both tracks will surely please though. Also included are English Closed Captions.

After hearing the audio on this set, you might be even more impressed by the video. I was truly blown away by the job Artisan did. Presented in full screen, every episode looks exceptional. Colors and blacks are exceptional for the age of the series, visual blemishes are no were to be found, and edge enhancement is non-existent. Being that there are only two episodes per disc, Artisan has dedicated a ton of space to the video side of things, with video bitrate rivaling that of the Columbia Tri-Star Superbit line. Obviously, there are no compression problems to be found; overall I'm truly blown away by the job done to restore these episodes. Kudos to Artisan for their work here.

As for extras, Artisan has provided us with some nice supplements, and some great commentaries. Starting off the extras are the optional Log Lady Introductions, which give us some very brief information into the plot of the episode you are about to see. These are not the most useful of clips, but worth a watch from time to time.

For commentaries...we have been truly spoiled. Although David Lynch has chosen to not participate in the making of this DVD, we do get very interesting commentaries from other people on the Twin Peaks staff; directors, writers, and production staff. All in all, these commentaries are very good and definitely worth a listen for those looking to gain a little more insight into the making of, and the episode content itself.

Next the editors of a Twin Peaks fan magazine entitled Wrapped-In-Plastic give us an almost mock interview with Mark Frost. I say this is a mock interview, not to say that it didn't happen, just that what we are shown is re-done to a technical snafu (the two are not actually talking directly). This interview gives us some more insight into the show and runs about fifteen minutes in length.

Next we are given a featurette that gives us an introductory look at David Lynch, the brain behind Twin Peaks. Unfortunately, as was said before, Lynch seems to want nothing to do with these DVD special editions, therefore this is not new interview material. Rather, all the information on Lynch described here is told through other people whom played a role in the series. Overall, this is a solid supplement running over twenty minutes...I just wish Lynch would help out here and there.

Next up we have the Twin Peaks Directory, which gives us the standard cast filmographies, bios, and video postcards. Although this is an informative extras, browsing the menus are a chore in themselves...the whole system might be amusing once...but there really should be an option for a more clean cut menu interface that does not leave the viewer frustrated.

Finally, we have the option to few additional script notes in the fashion of a fire icon appearing on your screen. Selecting this will give info on deleted material and character dialogue that was to be there originally. This feature can be turned off for those that do not like icons coming on their screen.

So, how does the first season of Twin Peaks fare on this DVD special edition release? Very, very well. We get exceptional audio and video, along with a good deal of extras and commentaries that should leave most Twin Peaks fanatics happy. The lack of the original pilot episode is a little disappointing and might leave a lot of fans miffed at its absence, but not much can be done. Overall, this Twin Peaks set does an exemplary job, and should be referred to for future TV series releases. Highly recommended.
Please help support our site by buying this DVD title through this link. Thank you kindly.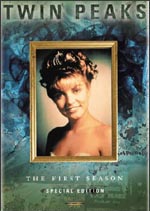 Purchase This DVD
Story / Content



Audio



Video



Extras