TWO WEEKS NOTICE
Reviewed May 11th, 2003 by Brian White
A local reviewer said, ďItís Hugh Grant being Hugh Grant, and Sandra Bullock being Sandra Bullock; and itís greatÖĒ when Two Weeks Notice came out last Christmas. That pretty much sums it up. Two Weeks Notice is a big-budget Hollywood romantic comedy that lives up to its genre in every way, and gives us two great performances from actors quite at home in romantic comedies. This is a feel-good date movie that hits all of its targets.

A romantic comedy must involve two people who the viewer would never consider seeing together as a couple. Two Weeks Notice is no different. Sandra Bullock plays Lucy Kelson, a driven, Harvard-educated lawyer who spends her life fighting several liberal causes. One of these causes is the preservation of heritage buildings. Hugh Grant plays George Wade, the public face of Wade Enterprises. Wade develops properties in New York, and demolishes the types of buildings that Lucy tries to protect.

So how does Hollywood get them together? Georgeís older brother, the real leader of Wade, demands that George hire a new lawyer with a respectable education. Lucy shows up to protest something, and George quizzes her about her background. Upon discovering that she graduated from Harvard, George hires her on the spot. Lucy then becomes Georgeís domestic slave. She is regularly awakened in the middle of the night to give George council on what tie to wear, or which girl to take home. It is when Lucy becomes tired of her existence and quits that the sparks begin to fly.

While this movie adheres very closely to the romantic comedy genre (and what is wrong with that?), it also possesses enough individuality to feel like its own thing. Certainly the crisis in the traffic jam sets it apart from most glossy Hollywood fare.

Grant is perfect in the role of the cad, as we have seen in Bridget Jonesí Diary. He is much more successful in this role than other loveable creeps weíve seen in the past. God knows why Meg Ryan ends up with Tom Hanks in Youíve Got Mail; he puts her out of business and she basically surrenders herself to him. In Two Weeks Notice, it is obvious to everyone that Lucy improves George, and makes him a better person.

Bullock is her delightful self. She isnít the best actress in Hollywood, but she certainly knows how to cast herself. Bullock produced the film, and it shows. She knows how to assemble a great picture.

The movie was written and directed by Marc Lawrence. He tells us on the commentary track that he wrote the script based on his impression of the relationship between Hugh Grantís and Kristin Scott Thomasí characters in Four Weddings and a Funeral. Obviously, Grant was perfect to play his character again, although he is a bit of a rat-playboy here.

The video on the disc is in keeping with a big-budget film. Presented in Anamorphic-widescreeen (1.85:1), the colors are lovely and the detail is crisp. This is a colorful and well-filmed movie. New York is used quite often as a lovely background, and it looks great on the DVD. A full-screen DVD is sold separately.

The audio on the disc is good, if not mind-blowing. The music and a few atmospheric effects are heard in the surrounds, but the Dolby-Digital 5.1 mix is mostly toward the front, as this is a dialog-driven affair.

For extras, there is a very entertaining feature-length commentary with Lawrence, Bullock and Grant. This is a great commentary track. Grant goes from questioning the point of a commentary, to criticizing his performance, skin and hair. The three commentators often kid each other, and itís fun to listen along. Bloopers are also included, but in a very annoying way. You have to watch the movie and wait for a heart icon, like the white rabbit on Matrix. You click Enter on your remote, and are treated to the behind-the-scenes mistake. Forcing the audience to watch the whole movie and wait for the gags is unacceptable. If you can, watch the movie with the commentary on, and the blooper option selected. The actors and director will tell you when a gag is coming up, although sometimes the gag in question is not included. Bonus scenes are also included, as well as a HBO-style Behind-the-Scenes documentary.
Please help support our site by buying this DVD title through this link. Thank you kindly.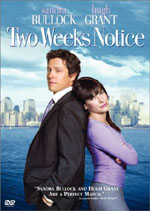 Purchase This DVD

Purchase Promo Poster

Story / Content



Audio



Video



Extras