UHF
Reviewed June 8th, 2002 by David Nusair
UHF was released in 1989, and I was very much a "Weird Al" Yankovic fan at the time (still am, actually; just not quite to the obsessive degree that I was then). I can still remember dragging my grandmother to a sneak preview of the film a week before it opened. She didn't think much of it (though she did enjoy the Gone with the Wind parody), but I thought it was just about the funniest movie I'd ever seen. Many, many repeat viewings followed – mostly on video – and when MGM announced the DVD (as a special edition, no less!), well, suffice it to say my enthusiasm grew as the release date approached. Having not seen it for a number of years, I feared that my cynical and jaded outlook – a perspective that obviously did not exist back in the late '80s – would obliterate my fond memories of the film. Happily, I can report that UHF remains an incredibly funny and immensely likable movie.

The film, written by Yankovic and director Jay Levey, is chock full of the parodies that made Yankovic famous, but there's also a decent (not to mention involving) story here. Yankovic stars as George Newman, an aimless daydreamer unable to keep a job because of his overactive imagination. Along with his friend Bob (David Bowe, in a fantastic performance that doomed him to forever be known as "the UHF guy"), George has just been fired from his latest minimum wage position at Burger World. Their luck changes, though, when George's uncle wins the deed to a low-rent UHF station and offers them the chance to manage the place. They accept, but soon discover that the station is essentially a dump and is doing miserably in the ratings. Their biggest competitor is flashy network affiliate Channel 8, led by the ruthless R.J. Fletcher (brilliantly played by Kevin McCarthy). George heads to Channel 8 to meet R.J., but is quickly shown the door. Fortunately, he bumps into just-fired janitor Stanley Spadowski (Michael Richards, pre-Seinfeld), and hires him on the spot. This proves to be George's wisest decision, as Stanley turns out to be the #1 draw for the station (did I mention Stanley becomes the host of his own show?).

Upon it's theatrical release, UHF received almost unanimous bad reviews. In the years that followed, though, with video and cable airings, the film eventually wound up with a strong cult following. And with good reason. The majority of similar silly comedies start out strong, but invariably run out of steam (and out of funny jokes). UHF, on the other hand, manages to remain humorous and (more importantly) entertaining all the way through. A lot of the credit for that has to go to Yankovic. Though he'll never be entered into the canon of all-time great performances, he does manage to take this character and make him incredibly likable. While the majority of the film is devoted to wacky parodies, the underlying storyline follows George's dogged determination to see his station succeed and desperate attempts in winning back the love of his life (Victoria Jackson).

But it's those parodies and gags that make UHF the hilarious movie it is. Ask anyone who's seen the movie, and they'll instantly recognize familiar names like Spatula City and Gandhi II ("no more Mr. Passive Resistance!"). There are a lot of really funny moments here, and even the jokes that don't provoke laughter manage to be amusing on some level. And for such a low-budget film, there are some truly amazing performances to be found within. First of all, there's Michael Richards as Stanley. Sporting hideous buck-teeth and clothes that are about two sizes too small, his Stanley Spadowski is a bumbling goofball. Richards' performance is a physical comedy masterpiece, altering even his body language to suit the role. Coming a close second as far as brilliant acting goes is Kevin McCarthy as slimy rival R.J. Fletcher. Every silly comedy needs an over-the-top bad guy, and McCarthy fits that bill perfectly. This guy is so evil that he conspires to kidnap Spadowski in an effort to lower the ratings of his rival. McCarthy, a veteran of over 100 movies, easily slips into the persona of this wonderfully amoral character.

Let's face it, UHF is about as good as it gets when it comes to silly comedies. If you haven't seen it, don't even bother renting it. Just buy the DVD; at this price (less than $20), you really can't go wrong.

Audio: UHF is presented with a dolby 2.0 surround soundtrack, and it's effective. While it never quite becomes an astounding demo disc (with a 2.0 track, that's impossible), it does deliver the goods. Sound remains localized in the center speaker, but occasional sequence allow for left and right usage. Dialogue coherency is as good as it gets, so it's hard to complain.

Video: This 1.85:1 anamorphic transfer is surprisingly good, especially given the low-budget and age of the film. The image is crisp and colorful, without a trace of bleeding of any sort. Having owned the previous tape edition, I can say without hesitation that this is an incredible improvement.

Extras: Ah, now here is where the disc really shines. First of all, it's worth mentioning that the menus are very entertaining, with Al occasionally popping up and doing something wacky. The major extra here is a newly recorded commentary track, featuring Yankovic and director Levey, along with cameos by Michael Richards, Emo Phillips, and Victoria Jackson. Not surprisingly, Al dominates this track – giving us a virtual tour of where the various locations used for filming can be found in Tulsa. He also talks a lot about the ideas he had for the film and even speaks of certain shots and jokes he feels didn't quite work. The appearances by Richards, Phillips and Jackson (via telephone!) are brief and fairly useless. Nevertheless, any fan of UHF or Yankovic will love this track. One other odd thing worth mentioning: When you select the commentary, the movie automatically switches to angle #2. Initially, this doesn't seem to do anything, but Yankovic does eventually make two appearances. It's weird and there's no explanation for it, but it's goofy fun.

Next up are 20-minutes of deleted scenes, hosted by Al (and available only on the pan and scan side for some reason). These are great, with Yankovic guiding us through the various cut sequences, offering up explanations and even scanning through some of the longer ones! It's easy enough to see why some of these selections were cut (three words: "Those Darn Homos!").

Also included are two trailers (an Indiana Jones style teaser and the final trailer), various posters and other promotional stills, stills from the set, and the highly entertaining UHF music video. There's also an easter egg of sorts. Press the left button from the extras menu and the "falling rocks" sign will be highlighted. Press enter and you'll be treated to… well, I wouldn't want to spoil it.

Conclusion: What more can I really say about UHF? Go buy it!
Please help support our site by buying this DVD title through this link. Thank you kindly.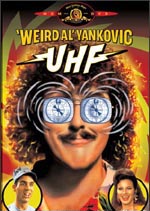 Purchase This DVD
Story / Content



Audio



Video



Extras