ULTIMATE FIGHTS
Reviewed April 19th, 2002 by Dan Jones
"Say hello to my little friend."

A while back I reviewed a disc from Universal entitled "Boogeymen: The Killer Compilation" that brought us the best of the best from our favorite movie boogeymen in some of their most memorable scenes ever. Not surprisingly, this disc was a huge success for Universal, and achieved large popularity from fans of the horror genre.

Can lightning strike twice? Universal would like to think so.

Ultimate Fights flows along the same lines as Boogeymen, sort of; this time giving us some of the most memorable fight scenes from cinema history; sixteen in all. There's really not too much you can say about a plot of any sort, besides that if you like your fight scenes action packed look no further then this.

Fight scenes come from another of different movies that span a number of different genres. Most notably we have scenes from Gladiator, Rumble in the Bronx, Blade, Scarface, Snatch, Crouching Tiger, Hidden Dragon, They Live!, First Blood, The Players Club, Fist of Legend, Legend of the Drunken Master, and The Killer, plus more.

Video wise, Ultimate Fights could have been better. With the exception of Crouching Tiger, Hidden Dragon, all the clips here are not presented in their original aspect ratio, rather have been cropped for this presentation. Also, if you have the films on DVD, don't expect these clips to look as good, they just don't, many are actually quite lacking. But for a large clip montage, I suppose they are acceptable; but more restoration plus original aspect ratio would have allowed me to give much higher marks; maybe on the sequel?

Audio wise, Ultimate Fights is LOUD. The included Dolby Digital 5.1 and 2.0 tracks have definitely been kicked up a few notches to give that extra feel of intensity; yet they really aren't that dynamic or detailed, seems like Universal went quantity of sound versus quality of sound. Some of the newer films do sound better then the older, more obscure films, but nonetheless there are no standouts here, just good and loud, which was probably the intent.

Extras wise, Universal has dumped a generous load of interactive features that rivals those of the prequel Boogeymen. Starting it off, we have an audio commentary by Tsui Hark. Hark, being a huge kung fu director gives us some interesting tidbits throughout the presentation; the man is basically an action movie genius, and really deserves a listen. We also have optional "Flix Facts" that appear onscreen during the presentation to give you even more information. Also included are "Fight Cards" which gives us a judge scoring of the fights onscreen... amusing to be sure.

Next, we have a Staging Your Own Movie Fight featurette. Running about 10 minutes this featurette gives us some material from James Lew and everyone's favorite actor, Jean-Claude Van Damme.

On the more interactive side of things we have a "Name that Frame Game" which allows us to... well, do just that. Also included is the capability to playback any five of the sixteen scenes in an order you select (I guess if you're demoing the disc or something...).

Rounding it out we have the "Ultimate Rumble Party Mix," a video for Puddle of Mudd's "Control", and trailers for They Live, Black Mask, Time Cop, Scarface, Legend of the Drunken Master, Crossing the Line, Dragon: The Bruce Lee Story, Gladiator, The Killer, and First Blood. For DVD-ROM content we get a nice trivia game.

All-in-all Universal has done an admirable job in creating a highly interactive and fun disc for presenting some of Hollywood's best fight scenes. While I wish the original aspect ratios would have been used, as well as even some video restoration on some of the older films, I have to admit that this disc is pretty fun, achieving in what it advertises. If you're an action movie junkie you should really check this out. Universal has done another admirable job, perhaps surpassing the quality of the original Boogeymen compilation. Recommended.
Please help support our site by buying this DVD title through this link. Thank you kindly.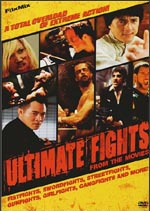 Purchase This DVD
Story / Content



Audio



Video



Extras