VAMPIRES: LOS MUERTOS
Reviewed October 14th, 2002 by David Nusair
It's interesting that, of all the John Carpenter movies to choose from, director Tommy Lee Wallace would choose to film a follow-up to Vampires. It's certainly not Carpenter's worst film (Ghosts of Mars earns that dubious distinction), but it's also not one of his more successful efforts (both creatively and financially). It was a fun movie, though, and the door was left open for a sequel. However, this being a straight-to-video flick, it's not terribly surprising that James Woods decided against returning. What's surprising, however, is the casting of Jon Bon Jovi in the lead role. And even more surprising, he's not that bad.

It helps that he's not taking over where Woods left off, a move that undoubtedly would've been disastrous. He's playing an entirely new character, Derek Bliss, a bitter and seasoned vampire-hunting veteran whose latest job demands that he take on a team. Like the original, Bliss is forced to assemble a ragtag gang consisting of: a tough black guy (Darius McCrary), a priest (Cristian de la Fuente), an inexperienced newbie (Diego Luna), and a woman (Natasha Wagner) who shares a psychic connection with the head vampire.

Vampires: Los Muertos is far more entertaining than it has any right to be, mostly due to Wallace's inventive direction and Bon Jovi's engaging lead performance. The movie never really veers from the groundwork laid by Carpenter with his film, but there are a few innovations and surprises to be found within. Bliss has, in his arsenal, a device that allows him to instantly determine if someone's a vampire based on their body temperature. That was pretty cool, as was the rifle utilized by McCrary's character that had wooden bullets. This is the kind of movie that relies on such inventions to keep things moving, since there's not much of a story here.

And Wallace does exactly that (keeps things moving, that is), throwing in one action sequence after another and keeping the expository stuff to a minimum. He's even got a few stylistic tricks up his sleeve, most notably a shot occurring in slow-motion that features a vampire slicing the throats of helpless restaurant patrons. But, when you get right down to it, the whole thing is just a watered-down remake of Carpenter's version. For what it is (and what it could have been), though, Vampires: Los Muertos works.

Audio: The movie is presented with a DD 5.1 soundtrack, and it's very effective. There are a good number of explosions and similar rear-speaker testing moments, and they come off quite well. Dialogue never suffers, which is certainly important.

Video: Like the original film, Vampires: Los Muertos has been shot with a 2.35:1 ratio, and this anamorphic transfer represents it very nicely. Though there are a number of dark scenes, pixelization is virtually non-existent. All in all, this is a crisp and clean transfer.

Extras: The only major extra here is a commentary track featuring Tommy Lee Wallace. Wallace starts out the track talking about the history of the project and how Bon Jovi came on board, and that stuff proves to be the highlight. The rest of the track, devoted to explaining his rationale for certain shots and how they were accomplished, is good but not quite as interesting as that opening spiel. Also included are trailers for this movie, Ghosts of Mars, and Dracula.

Conclusion: Vampires: Los Muertos proves to be a worthy successor to Carpenter's original.
Please help support our site by buying this DVD title through this link. Thank you kindly.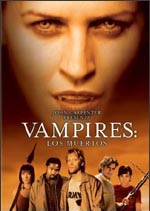 Purchase This DVD
Story / Content



Audio



Video



Extras