VANILLA SKY
Reviewed June 8th, 2002 by Brian White
Everybody (except DVDCC.COM's own John Randall) told me that I would hate this movie. They said I would hate the ending, and that it just generally sucked. This confused me because I seem to recall Vanilla Sky receiving some very positive reviews when it was released theatrically. At any rate, I knew that this movie had an impact on people, and I was curious to see what that impact was.

Director Cameron Crowe calls Vanilla Sky a "cover" version of Alejandro Amenábar's 1997 film, Abre Los Ojos. Basically it is a movie that plays with you. It's a lot of, "what's going on?" and it exposes itself at the end. There have been several movies that are all exposition, and have their way with your mind. This film works on that premise.

Vanilla Sky is a bold move for both Crowe, and star Tom Cruise. Their intentions for this flick were to take you on a ride. You are taken on a ride, but I do not think it's as glorious as what was planned. Crowe and Cruise wanted Vanilla Sky to make you feel like you did after you saw Memento. It does not. The pieces just are not put together properly. They wanted to make music, but they made noise. Parts of it are glorious, but it just does not add up.

I confess I feel a little guilty putting down this sort of ambitious project. Crowe should be commended for trying something like this, and I hope he does again. Perhaps the problem is in the translation. Comedies from abroad are often "covered" quite well. Maybe the complexity of the original film is too incongruous with the bright colors and glossy finish of the Hollywood machine.

So did I hate it? No. In fact, upon reflection I am quite impressed with the premise and I am forgiving about what I feel was wrong with this movie. I also realize why people who thought this was a cross between Jerry McGuire and Fatal Attraction felt betrayed.

Vanilla Sky is a great looking DVD. It is a very colorful and stylized film in many places. It all looks quite good on this 1.85:1, anamorphic transfer.

The audio mix is 5.1 Dolby Digital, and it does a great job of complimenting the psychological dramatics on the screen. There is crazy stuff all around you, including on the screen. The music in the film is great, and the music sounds great in the mix.

For extras, you have a feature-length, screen specific commentary from Crowe, while Nancy Wilson plays guitar (as she did on the film's score). The commentary is mostly thematic, rather than technical. Crow phones Cruise at one point, and it is great to hear how proud they both are of the work. Also included are a behind-the-scenes featurette, and cool handicam footage of the press tour for the film. An interview with Paul McCartney, the trailer, and a rock video are also included. Recommended!
Please help support our site by buying this DVD title through this link. Thank you kindly.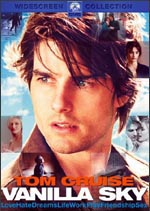 Purchase This DVD

Purchase Promo Poster

Story / Content



Audio



Video



Extras