VAN WILDER (UNRATED)
Reviewed August 20th, 2002 by Steve Jackson
"Tit! Oh, mommy. Most Indians would say "cow" because they are sacred, but I hear "milk," I think giant jugs."

Over the years, I have really enjoyed most of the National Lampoon films. Besides the obvious "Vacation" series, my favorite among the rest has to be "Senior Trip" (unfortunately not on DVD). Now comes Van Wilder – a way out there comedy – but does it have what it takes to be a hit?

Val Wilder (Ryan Reynolds) is a student who happens to be working on his seventh year at Coolidge College. His father one day decides that it is time to cut off his son financially and therefore Van must come up with new means to stay in school. Since Van spends most of his time partying, he decides the best way to earn the money he needs is to become a professional party thrower. A subplot during his effort is that someone from the school newspaper (Tara Reid) has to write a story on Van. When the article is first published, Van doesn't like it too much so he spends the rest of the film pretty much changing the writer's mind.

With all of that said, this is a pretty funny flick, but there is a lot of stereotyping that often gets a bit annoying – every kind of "group" is made fun of one way or another. Acting is not too bad in the film, with Taj Mahal Badalandabad (played by Kal Penn) having some of the funniest lines in any recent film. Also, watch out for some great cameos by Erik Estrada, Curtis Armstrong and others.

The DVD boasts both a 1.85:1 anamorphic widescreen and a full-screen transfer. The widescreen has its problems but generally is ok. There are problems with a lack of image detail, some artifacting and even the colors seem off sometimes. As new as the film is, I am really surprised it couldn't have been better.

The audio on the DVD is presented in Dolby Digital 5.1 and again just does not live up to par. There is a lot of bass in the mix, but when it comes to soft scenes of dialogue; it is almost as if the treble was excessively high. A Dolby Digital 2.0 track is also provided.

As noted, this is the unrated version of the film which includes about two minutes of extra footage, is a two-disc set and also has some interesting R-rated menus.

There are quite a few extras, but nothing that wonderful. First up are ten deleted scenes and twelve outtakes. Most of them are pretty boring, but some of them are a bit funny. There are 6 making-of featurettes that aren't too bad that total about an hour. From Comedy Central's interviews to strange Burly Bear specials and snipits from the soundtrack - there are some somewhat entertaining things here. I guess the best extra is the music video "Bouncing off the Walls" by Sugarcult. Rounding out the extras is three trailers, some previews for other DVDs, cast and crew notes, an art gallery, production notes and DVD credits and more.

If you're in the mood for a rather humorous film on a lazy Sunday afternoon – then this DVD set is definitely worth a rental.
Please help support our site by buying this DVD title through this link. Thank you kindly.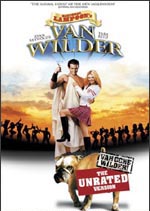 Purchase This DVD
Story / Content



Audio



Video



Extras