VEGGIETALES: LYLE THE KINDLY VIKING
Reviewed August 20th, 2001 by David Nusair
Astonishingly enough, this VeggieTales episode - the first on DVD - is actually the 15th release to the video market.

That's not to say it's bad; quite the opposite, actually. For kiddie fare, it's pretty entertaining (and short to boot!). The first story is called "Omelet" (after Hamlet) and follows the Price of Denmark as he learns a valuable lesson in sharing. This is followed by Silly Songs with Larry, a short musical number that becomes Classy Songs with Larry. Finally, there's a grand musical called, not surprisingly, Lyle The Friendly Viking which also teaches a lesson in sharing (to be fair, the introduction points out that the entire episode will be about sharing).

The whole thing runs about 45 minutes, so it's pretty hard to get bored. The computer animation, while not up to the level of Toy Story or Final Fantasy, is still quite good (sparse, but good).

Audio: This 5.1 DD track is surprisingly active, with sounds frequently eminating from various speakers. The dialogue and music is always crisp and clean. There's also a 2.0 Dolby surround track, but this is significantly worse.

Video: Wow. This is an amazing transfer. The image is incredibly sharp and colorful, and there are no artifacts present. If nothing else, this transfer alone is worth the price of the disc.

Extras: There are actually quite a few extras, starting with an interview with director Tim Hodge and Big Idea (the company that releases these videos) founder Phil Vischer. This only runs about 5 minutes, but is very entertaining. These two really have a love for their product, and it shows. Next is a widescreen version of the Silly Songs with Larry (1.85:1). This is identical to the version of the song in the movie, just widescreen. Sorta bizarre. Finally, there is a very short storyboard-to-film comparison, and a trailer for the full-length theatrical VeggieTales movie, Jonah.

Conclusion: If you've got young kids, this will likely teach them a valuable lesson about sharing (and will keep you entertained, too).
Please help support our site by buying this DVD title through this link. Thank you kindly.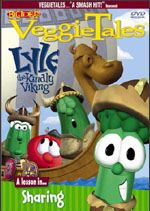 Purchase This DVD
Story / Content



Audio



Video



Extras