VEGGIETALES: THE ULTIMATE SILLY SONG COUNTDOWN
Reviewed November 15th, 2001 by David Nusair
Yep, those singing and talking vegetables are back!

This is only their second DVD release, though they've released close to 20 tapes over the past few years. Many songs have come out of each subsequent release, and now all their best are available on this DVD. In this collection, you get: Endangered Love, The Dance of the Cucumber, Larry's High Silk Hat, The Water Buffalo Song, The Yodeling Veterinarian of the Alps, The Song of the Cebu, His Cheeseburger, Love My Lips, The Pirates Who Don't Do Anything and The Hairbrush Song.

As indicated by the title, these are all fairly silly songs, but surprisingly enough, they're also pretty enjoyable. They've been written so that they're suitable for children, but there's also enough sly humor in there to appeal to anyone over the age of six.

But make no mistake, these are intended for little children. Every song praises Christian values – which isn't entirely a bad thing – but the repeated viewing demanded by the kiddies will probably get real old real quick for us non-child types.

Nevertheless, this is a great disc that kids will no doubt enjoy tremendously, wrapped up in a package chock full of extras.

Audio: This 5.1 DD soundtrack is quite good, with many surround sounds employed. But since this is a music disc, the real question is how do the tunes sound? They sound great. This is as close as you'd want to get to being there (obviously, there is no there – but close enough).

Video: As with the first VeggieTales disc, this transfer is flawless. This is obviously direct from the source, because it's just about as sharp and clear as you'd expect a computer-generated product to be.

Extras: There are a fair number of extras here, beginning with a 20-minute interview with series creators Phil Vischer and Mike Nawrocki. They discuss each of the songs and prove to be funny and charming. While obviously this will bore the kiddies, this is an engaging interview and is quite interesting. Another interview features the duo talking about their plan for taking votes for songs via their website. Short but sweet. Up next is a 14-second deleted scene. Yup, 14-seconds. Useless, but funny. Next is a story reel for the song Do The Moo Shoo, with the capability for karaoke. This is a fun feature, but it's puzzling why it wasn't included for other songs.

Conclusion: VeggieTales is great family entertainment – just don't expect any cynicism here.
Please help support our site by buying this DVD title through this link. Thank you kindly.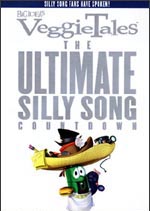 Purchase This DVD
Story / Content



Audio



Video



Extras