WALLACE & GROMIT: THE FIRST THREE ADVENTURES
Reviewed October 17th, 1999 by Staff
The video collection of any Anglophile is incomplete without this disc. The same should be said of any fan of animation. Nick Park's clamation adventures of Wallace and Gromit are hilarious and fascinating. Here, all three cartoons are included on the same disc. Before, they were on separate VHS tapes.

Wallace is a peculiar gentleman, an inventor and window cleaner. Gromit is his genius dog.

Included on the DVD are:
· A Grand Day Out: Wallace and Gromit build a rocket to get cheese from the moon. They encounter an interesting lunar native. It's waaaaay too British.
· The Wrong Trousers: an excellent episode. Wallace and Gromit let out a room to a shady penguin. What is the bird's secret? Is he usurping Gromit's place? Why would NASA make robot pants?
· A Close Shave: Probably the greatest piece of animation ever. Again, more secrets and cheese. A poor, lost sheep named Shawn is the center of an epic struggle between good, evil and oatmeal.

The latter two cartoons won Academy Awards for best animated short.

Perhaps Park's brilliance can be summed up by the fact that mute characters like Gromit, say so much with facial expressions. There's a creepy Penguin in The Wrong Trousers that also uses tense silence to great effect. The cartoons are also very funny. Look at Shawn getting his bath! Also, how did they do that shot of Gromit flying around the warehouse in Close Shave?

The video on the DVD is good. The episodes look much better than they did on broadcast television. A Grand Day Out does not look as good as the other two episodes. All three cartoons are presented in full frame, 1.33:1. The disc is non-anamorphic.

The sound mix is Dolby 2.0 stereo. Like the picture, the sound improves through the chronology of the episodes. Listen to the panning during A Close Shave. That mix is quite alive.

For extras, the viewer can watch some early animation by Parks (don't bother), some video tests for A Grand Day Out, a portion of the BBC special Inside the Wrong Trousers, and some little bits which appeared on the BBC during Christmas. It boggles the mind that the entire Inside the Wrong Trousers is not included here. Menus are very good: the viewer can gain access to all bonus features from the menu for each episode. Also, the episodes are tracked generously (Hey South Park, take note!).
Please help support our site by buying this DVD title through this link. Thank you kindly.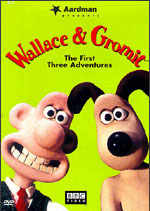 Purchase This DVD
Story / Content



Audio



Video



Extras