WATERBOY, THE
Reviewed February 4th, 2000 by Andrew Stoakley
"I'm the wa…wa…waterboy. I've got a wo…woo…woo… wooden spoon."


Plot

Na´ve waterboy Bobby Boucher, learns to turn his pent-up rage into conquered foes while playing College football in small town Louisiana.


How Does The Disc Look?

Bravo! to Touchstone pictures for once again delivering an excellent transfer. These guys seem to deliver outstanding DVD's time and time again. Colours really come to life, which is good, considering half of the film is shot in the Bayou. Reds are strikingly vibrant, blues appear like waters from the Cortez Sea and earth tones come across fresh and alive. There is absolutely zero trace of bleeding or artifacting, which is amazing considering most of the film, has either prominent red or orange colours in every shot. The film is presented in its original 1.85:1 aspect ratio.


How Does The Disc Sound?

The Dolby Digital 5.1 mix is very good on this DVD considering it isn't an action film. However, the bass comes pounding through whenever Bobby Boucher lays the tackling smackdown. In most films, a score or soundtrack is used to enhance the ambiance or mood. In "The Waterboy" there really is no score to say, but a great sounding soundtrack. Classic hits from CCR, Lenny Kravitz and Canadian rock legends Rush, really give Waterboy the extra push it needs. However, when there is a need for score music, you'll notice it's all upbeat techno tracks that blend and edit well with the motion on the screen.


What Extra's Do You Get?

Considering this is a Touchstone picture, extras on "The Waterboy" are somewhat lax. Here's a list of them:

- 5.1 DD mix
- French language soundtrack
- Movie trailer
- Production featurette (which pretty much sucks!)


Well?

Overall, "The Waterboy" is a good disc, especially if you are a big Adam Sandler fan or fans of this type of film (i.e.: Dumb & Dumber, Happy Gilmore and so on.). On some acting notes of interest, this film is acted WAY over the top and you would expect that from a film of this genre. Both Kathy Bates and Henry Winkler excel at playing the over bearing, over protective mother and neurotic football coach. A special note for all you Clint Howard fans out there. Clint does not let you down as he plays a dumb-witted, backwater, swamp loving football fan. Great fun and the football scenes are some of the funniest things this side of watching Bob Barker and Adam Sandler duke it out in "Happy Gilmore." A must have in the collection for nights when you are feeling giddy and stupid!
Please help support our site by buying this DVD title through this link. Thank you kindly.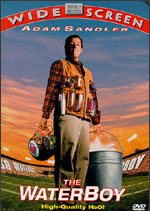 Purchase This DVD
Story / Content



Audio



Video



Extras