WEEKEND AT BERNIE'S
Reviewed July 7th, 2001 by David Nusair
The late '80s, early '90s was a landmark era for screen comedies. Funny flicks such as Dirty Rotten Scoundrels, UHF, Groundhog Day - to name a few - were constantly and consistently making their way to local cineplexes. The trend nowadays is raunchy, bawdy humor (American Pie, Scary Movie, Tomcats, etc), but there was a time when comedy was something enjoyable by an entire family. And usually, those movies were far funnier than the so-called comedies of today.

Weekend at Bernie's, released in 1989, is a staple of the long-lost wacky comedy sub-genre. Starring Andrew McCarthy and Jonathon Silverman, the movie is about as silly (and funny) as it gets. After impressing their boss Bernie (Terry Kiser) with their discover of a costly error, Larry (McCarthy) and Richard (Silverman) are invited to his beachside house for the weekend. But when they arrive, they discover Bernie's corpse. Much wackiness ensues as the pair pretend that Bernie is in fact still alive - walking around town with him, rigging a device that makes it appear as though he's waving at people - and avoiding the hitman that keeps trying to murder Bernie to (he thinks) no avail.

Unfortunately, if you're not willing to go with this admittedly bizarre and quite ludicrous concept, you'll wind up enjoying Weekend at Bernie's about as much as a root canal. But if you go with it and accept the fact that all these people are too self-obsessed to realize they're talking to a dead man, you'll laugh often and heartily.

Audio: Weekend at Bernie's is presented in two-channel Dolby surround and it's a solid track. It's not earth-shattering or anything, but that's not really to be expected. A French track is also here.

Video: Like the audio, the video is nothing particularly special. Presented in a non-anamorphic 1.85:1 transfer, the image is satisfactory. It's free of artifacts and generally quite crisp.

Extras: Nothing too spectacular here, either. There are cast and crew bios (of McCarthy, Silverman, co-star Catherine Mary Stewart, and director Ted Kotcheff) and production notes (which are actually quite interesting, if a little short). Finally, there's the trailer, presented full-screen and looking quite awful.

Conclusion: This is a great comedy that deserved a better digital package. But it does improve upon the tape immeasurably. Check it out, if you're sick of what passes for funny nowadays.
Please help support our site by buying this DVD title through this link. Thank you kindly.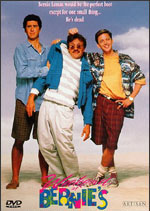 Purchase This DVD
Story / Content



Audio



Video



Extras