WEIRD AL YANKOVIC: LIVE
Reviewed May 29th, 2000 by John Randall
In 1999 the VH1 channel aired a concert by the parody man himself. Unfortunately for time they had to cut out some of the songs – what a major drag.

With the help of the great technology called DVD we now get to see more of the concert, have it in 5.1 and also get to see plenty of extras to go around! Thought this may not be the most wonderful transfers or the hottest 5.1 mix in existence, studios could very well pick up a few pointers from the funny man.

Not only do you get the concert, but you also get much more!

The setlist is as follows:

- Gump
- Polka Power
- Jerry Springer
- My Baby's In Love With Eddie Vedder
- The Night Santa Went Crazy
- Dare To Be Stupid
- It's All About The Pentiums
- Germs
- One More Minute
- Like Surgeon
- A Melody Containing 8 Of His Songs
- Smells Like Teen Spirit
- Bedrock Anthem
- Amish Paradise
- Fat
- The Saga Begins
- Yoda

The video is presented in full frame as it was shown on TV and is presented in either 2.0 or 5.1. The 2.0 track seems to be recorded at a much lower volume and the 5.1 mix sounds great. The picture is extremely clear as well. One might note that by pushing the audio selection button that there is actually a 3rd sound track on the disc that is nothing but silence.

Also included on the disc are some great extras! For starters you get the complete "The Saga Begins" and "All About the Pentiums" music videos. They too are presented in 2.0 and 5.1! A wonderful treat. The kicker is, the 3rd audio track is actually there during the music videos and is actually commentary by Al himself during the videos! A great unlisted extra. The video quality on Saga Begins at least isn't all the great, but other studios could really take some advice and put 5.1 remixes of music videos on their discs!

Also included are on-screen lyrics during the concert so you can sing along, a photo gallery, 2 education films called "Germs and You" and "Crimes of Carelessness" that first aired on AL-TV.

Even though Al just might be lip syncing to some of the songs live (it's hard to tell) this disc is a really great one and highly recommended to Al lovers everywhere. Ending it all with the classic Yoda live was a wonderful experience!
Please help support our site by buying this DVD title through this link. Thank you kindly.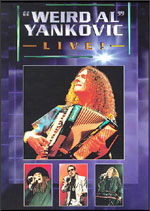 Purchase This DVD
Story / Content



Audio



Video



Extras