WHAT LIES BENEATH
Reviewed February 18th, 2001 by Len D. Martin
Cast: Harrison Ford (Dr. Norman Spencer), Michelle Pfeiffer (Claire Spencer), Diana Scarwid (Jody), Joe Morton (Dr. Drayton), James Remar (Warren Feur), Miranda Otto (Mary Feur) Amber Valletta (Madison Elizabeth Frank) Katharine Towne (Caitlin Spencer), Victoria Bidewell (Beatrice), Eliott Goretsky (Teddy), Ray Baker (Dr. Stan Powell), Wendy Crewson (Elena), Sloane Shelton (Mrs. Templeton), Tom Dahlgren (Dean Templeton), Micole Mercurio (Mrs. Frank).

Director: Robert Zemeckis

Story: Norman and Claire seem like the ideal couple - she, the happy housewife and he, the research scientist. One night, Claire hears their neighbors, Warren and Mary fighting. The next day she sees Mary in tears and tries to talk to her, but Mary is scared and runs away when Warren comes home. Later that night, Claire sees Warren put something in the trunk of his car, and believes he has killed Mary. Claire begins to see strange apparitions and senses someone else is in the house with her. Doors begin to open by themselves, there is writing on the bathroom mirror, the initials MEF begin mysteriously typing on her computer, and when she sees a dead body in her tub, she knows she is having a nervous breakdown. Late one night, when her nerves are exhausted, she goes to the college where Norman is conducting his research to talk to him about the strange occurrences and when she sees Warren, she openly accuses him of killing Mary. Warren says he did not kill Mary and who should show up but Mary! Claire, realizing that a mistake had been made, feels now that it was her imagination and she will be free. But, the next day when the same things start happening all over again, Claire knows that in order to have peace, she must solve this mystery, with or without Norman's help.

Audio: Presented in Dolby 5.1 Surround, Dolby DTS 5.1 Surround, and Dolby 2.0 Surround.Also with optional English subtitles and Captioning. Excellent 5.1 Surround - No Problems.

Video: Presented in Anamorphic Widescreen 2:35.1 - Enhanced for 16x9 televisions. Excellent color - Beautiful and vibrant.

Extras: Commentary by Robert Zemeckis; HBO's "First Look" Behind the Scenes Featurette; Production Notes; Cast and Filmmaker Bios; Theatrical Trailer.

Comments: Forget what the critics say. This is an excellent supernatural thriller. One word of warning - DO NOT watch the trailer before viewing the film - Watch the film then the trailer.
Please help support our site by buying this DVD title through this link. Thank you kindly.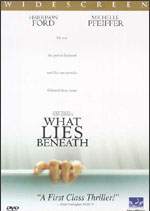 Purchase This DVD
Story / Content



Audio



Video



Extras