WHAT PLANET ARE YOU FROM
Reviewed August 14th, 2000 by Brian White
The very funny Gary Shandling, hot off the success of his Larry Sanders Show, stars in this sometimes-funny alien fish-out-of-water movie. Shandling fans will be satisfied with this movie. There are some great performances from a very good cast. However, the movie takes a sentimental turn, which seems to imasculate the comedy.

Shandling's character, Harold, belongs to an alien race which is planning to take over Earth from the inside. They plan to procreate with human females. The problem is that they are a race of cloned, unemotional "men" with no genitals. Their training his hilarious. Harold is chosen as the first to attempt the mission. Upon arriving on Earth, he sets out to get lucky. Shandling is great.

The comedic hook behind this film is the similarity between the well-trained alien's confusion, and the confusion that the average joe feels when dealing with women. Shandling's alien is confused when regular guys are confused. Harold's blatant advances on women to fulfill his mission are in much the same fashion that most men hit on women. When the emotionally wanting Harold is cold, it isn't unlike the apathy that many men show toward women.

Annette Bening plays Shandling's female lead quite well. Her character is a complete flake, and very different from the woman she played in American Beauty. Bening has real comedic talent. Greg Kinnear plays a complete slimeball that antagonizes the alien. He also makes the overly sexed Harold look more normal. John Goodman plays an FAA agent (the aliens "beam down" using commercial flights) who obsessively loses nearly everything to sort out the truth about the alien.

Unfortunately, the film takes the inevitable sentimental turn, as Harold discovers that the love he's using to facilitate his mission is really an end, rather than a means. It's a nice message, but it undoes the comedy.

The video on the disc is everything you'd expect from a glossy Hollywood comedy. The anamorphic 1.85:1 transfer is very good. A full frame, 1.33:1 transfer is available on the flip-side of the disc.

The 5.1 audio, though mostly toward the front, deals with the music and dialog in the score adequately. The planes in the airport scenes are heard in the surrounds. It's OK.

Extras include a behind the scenes featurette, a trailer, and an isolated music track.
Please help support our site by buying this DVD title through this link. Thank you kindly.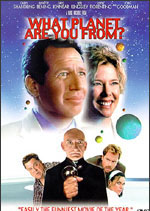 Purchase This DVD
Story / Content



Audio



Video



Extras