WHAT'S THE WORST THAT COULD HAPPEN?
Reviewed February 4th, 2002 by Brian White
A thief of a thief might make God laugh, but God knows it didn't make me laugh. Martin Lawrence and Danny DeVito team up for this big-budget comedy that boasts a respectable cast, and some decent comedy along the way. What's the Worst Thing That Could Happen is the story of Kevin, a thief (Lawrence), who is caught, and then robbed by his victim Max (DeVito). Incensed by this crime, the thief pursues his robber. Wackiness ensues.

There are some really funny and talented people in this picture. John Leguizamo plays Lawrence's right-hand man. Nora Dunn is great as DeVito's wife. Richard Schiff is DeVito's Lawyer. The always funny Larry Miller does his best as well. I think everybody thought this movie was going to be a great success. The money's all over the screen. You've got Lawrence's obvious appeal, and DeVito who pulls a different audience. If this had worked, it would have been a gigantic success.

What went wrong? The love story. What's the Worst… is a cross between a caper and a farce. In order to get anything out of that type of film, every character must possess a comical two-dimensional nature. That is usually the case in this film, but it's not intentional. They're really trying to sell us on Kevin's feelings toward his girlfriend. Lawrence's character is supposed to be three dimensional and sympathetic. He's a fish out of water in this silly plot. Sure there was a love story in A Fish Called Wanda, but there was nothing sappy about that flick. Jamie Lee Curtis was screwing everyone in the flick, and John Cleese was certainly no everyman. Here, they're trying to make Lawrence real, but put him in a comically unreal situation. It just doesn't work. I can't help but think that if there was no real love story, and they let Lawrence's character be a little more petty, the film would have been a lot funnier. I bet that was what the original script intended, but some suits made a call to get in the female audience.

So Lawrence should be able to rescue this movie with his comedic talents right? Nope. He just doesn't seem to care, and you shouldn't either. The movie is entertaining enough if you're forced to watch it on a plane, but that's about it.

How does the disc look? Really good. The anamorphic, 1.85:1 transfer is really clean and detailed. This is a big budget, and really well shot comedy, so the movie looks good, and the DVD is a great showcase for that. A full-frame transfer is also included on the disc.

How's the Audio? The Dolby Digital 5.1 track is certainly clear enough for dialogue, and it has sufficient kick for the low base in some of the rap music in the background. There is little in the way of split surround effects. There is some atmospheric stuff coming from the surrounds, but little else. Ultimately, this is about conversation, so you don't need a lot of surround sound.

For extras, there is a music video, an HBO-style promotional featurette, and outtakes. The extra material is on Side B because there are two transfers of the film on Side A.
Please help support our site by buying this DVD title through this link. Thank you kindly.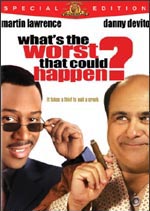 Purchase This DVD
Story / Content



Audio



Video



Extras