WHAT WOMEN WANT
Reviewed July 29th, 2001 by David Nusair
Mel Gibson stars as a man given the ability to read women's minds through convoluted (and unexplained) circumstances. Helen Hunt co-stars as his new boss and potential love interest. Marisa Tomei, Bette Midler and Ashley Johnson (yes, "Chrissie" from Growing Pains) are all here too, but the movie really belongs to Mel and Helen.

What Woman Want takes that fairly outlandish premise and builds a movie around it. What if a guy that thought he was god's gift to women found out that women don't really like him? There are several funny scenes dealing with this, such as a sequence in which Gibson is horrified to discover that everyone at a meeting hates him (they're all women, you see).

The problem is, though, that the screenplay throws in a bunch of jokes about Gibson's newfound ability and then just runs out of steam. Towards the end, there's even an extended sequence dealing with a suicidal clerk that Gibson saves, which really felt out of place. It's as if the director felt some kind of need to make the film at least two hours and had to start throwing in filler.

The actors are all game, though. Gibson, in his first romantic comedy, is great. He's charming as ever, and even as a jerk, you like him. Hunt is good, too, but she's basically playing the same character as always. Is there some clause written into her contract that says she must have a scene in which she cries? Think about it; all her recent movies have featured her crying about something.

What Women Want is a marginally entertaining little comedy. It's kept afloat by performances and a thin premise, but some generous cuts could have gone a long way.

Audio: You get two choices with What Women Want - DD 5.1 or 2.0 channel Dolby Surround. Since this isn't exactly a Lethal Weapon film, you won't really notice much of a difference, though the DD track does contain more bass and substance. But both serve the movie just fine.

Video: What Women Want is presented with an anamorphic 1.85:1 transfer and (not surprisingly) it looks great. While Paramount is often stingy with supplemental material, one area they have always excelled in are their transfers and this is no exception. The colors are vibrant and sharp, and the image is, overall, near perfect.Extras: Firstly, there's a commentary track with director Nancy Meyers and production designer Jon Hutman. Meyers dominates this track, with Hutman occasionally chirping in with notes on the various sets in the movie. While not a terrible track (we do get a lot of insight into the motives behind the movie and the various performances), there are a lot of quiet spots. Next, is a 16 minute look behind-the-scenes. This is mostly just the actors and creators being interviewed, talking about how much fun they had on the set. Nothing terribly informative here. Equally useless is a 12 minute featurette in which the participants (the actors and director) compliment each other and talk about why they liked the script so much. Finally, there are two trailers - letterboxed, but not anamorphic.

Conclusion: While not a great movie, What Women Want looks and sounds great, so fans of the movie should be quite happy.
Please help support our site by buying this DVD title through this link. Thank you kindly.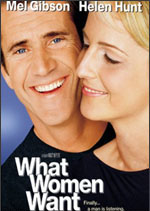 Purchase This DVD
Story / Content



Audio



Video



Extras