WHO FRAMED ROGER RABBIT (VISTA SERIES)
Reviewed March 19th, 2003 by Dan Jones
"We toons may act idiotic, but we're not stupid."

Who Framed Roger Rabbit is one of those classic films; but moreover a film that achieved perfection in crossover appeal between children and adults. It was also a film that was able to provide a truly convincing environment between real life and animated characters. Other films had combined these two forms before, but none with such perfection.

The story goes like this: We have Roger Rabbit, a downtrodden toon star who believes his wife Jessica is sneaky around with other men behind his back. Then we have Eddie Valiant, a detective who despises toons due to the murder of his brother. Roger's boss then hires Eddie to snoop on Jessica and see if Roger's claims of infidelity are true, but during his investigation Marvin Acme dies, and Roger is the prime suspect. Enter Judge Doom (played by Christopher Lloyd), the man that presides over Toontown, who vows to hunt down and kill Roger. Didn't think toons could be killed? Well Judge Doom has found a way around that.

The beauty of this film lies within the seamless mix between live action and animation; this is truly a feast for the eyes with excellent cinematography and excellent acting (especially when considering they weren't acting to much). Who Frame Roger Rabbit showed what was possible with film, how the limits of the medium could be overcome, and overcome with great success.

Who Framed Roger Rabbit definitely pushed the barriers of the PG rating. The film features some gratuitous violence by ways of the death of some of the toon characters (well, more violent then your typical cartoon, that is for sure) as well as quite a bit of smoking and sexual connotations. Moreover the previous and even this current DVD release contain slight censorship of the theatrical cut, editing of some shots deemed to risqué for current standards (the addition of panties to a skirt flying scene and the "goosing" of a girl).

As for the DVD release here, this set comes with two discs containing full screen transfer (labeled Family Friendly) and a widescreen transfer (labeled for Enthusiasts). For those who own the previous version, this new version has a $5 off rebate enclosed.

Presented in 1.85:1 anamorphic widescreen and a quasi-full-frame/pan & scan, both transfers look excellent. We'll focus on the widescreen version nonetheless. Colors look great, very vibrant with the colorful toon palette, while never bleeding. Detail is great. I noticed no edge enhancement problems and the source used seems surprisingly clean and clear. Overall a huge jump from the previous release; very nice indeed.

As for audio, we're given tracks in 5.1 Dolby Digital and DTS (well, the full-screen disc only has Dolby Digital) but neither are really stand out. It seems not too much effort was put into directional cues or surround effects with no noticeable discrete channel effects in the rear. Fidelity is fairly good, and dialogue clarity was fine, just overall neither tracks have much of an enveloping feel. Okay, but nothing great.

On the extras side, we get quite the mother load.

Starting off on disc one we have "Who Made Roger Rabbit", which is somewhat promotional in nature, but does provide some behind the scene material and some material on Fleischer's quirks. Next, we have "Trouble in Toontown," which is basically just a nice game for the kids. Also included are two trailers for Schoolhouse Rock and Ultimate X.

Rounding out disc one, we have three nice shorts for the film ("Tummy Trouble," "Rollercoaster Rabbit," and "Trail Mix-Up"), all presented in anamorphic widescreen and 5.1 Dolby Digital (and oddly enough some have some great discrete surround effects lacking from the film's audio mix). These are definitely the best part of the first disc.

Starting disc two, or should I say the enthusiast disc, we have an excellent audio commentary with director Robert Zemeckis, producer Frank Marshall, writers Peter Seaman and Jeffrey Price, associate producer Steve Starkey, and visual effects supervisor Ken Ralston. With this much talent in one room its no wonder this commentary is so good; everything is discussed, from the concept to the difficulties of bringing live action and animation together, to figuring out the right voices, its all here. Definitely worth a listen for any fan of the film.

Next we have a deleted scene ("The Pig Head Sequence"), with commentary from Zemeckis, Ralston, and supervising animator Simon Wells. This is presented in full screen. Next, we have Toontown Confidential is basically a fact/trivia track that can be run during the length of the film, popping up constantly with great detail on the film. Valiant Files adds to this information overload with a sort of game that allows you to look around Valiant's office using your remote control. Quite a lot of detail here to be uncovered. Look at the cheat sheet if you get stumped.

Behind The Ears: The True Story of Rober Rabbit is an excellent new feature made for this DVD release with a runtime of over thirty-five minutes. This is very documentary in nature, providing a plethora of interview footage of cast and crew, as well as discussions on the trials and tribulations and live action and animation and the techniques used in the film.

Before and After gives us a look at how live action and animation was combined, giving us a split screen perspective of how the film looks before, and you guessed it, after animation. Toon Stand-Ins gives a behind the scenes look at the cast acting with puppets to make the later animation more seamless. Rounding out the extras, we have On Set, which provides us with a look at how the cab scene was done.

Overall, Who Framed Roger Rabbit is a great film that adults and children alike can love. Its nice to see effort finally put into the DVD release we see here, with a plethora of extras and greatly improved video quality. This is an easy recommendation to any fan of the film, and if you have the previous version, you're going to have to upgrade. Highly Recommended.
Please help support our site by buying this DVD title through this link. Thank you kindly.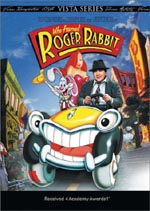 Purchase This DVD
Story / Content



Audio



Video



Extras