WILD THINGS
Reviewed February 7th, 1999 by Staff
From the title you expect this to be a risqué movie and it does not disappoint. In this movie you have: intrigue, sex, scandals, murder and some of the finest women in cinema today. The cast includes Kevin Bacon, Matt Dillon, Neve Campbell, Denise Richards and Bill Murray top the list. Add in more twists then a hurricane and your ready for a nonstop thriller that breaks more taboo's then Basic Instinct. The basic story line starts out in a ritzy little town where people love to show off that they are rich. If you don't have money you're good for nothing but labor or sex. This is where a school counselor comes into the picture and is accused of raping two of the students at his high school. Bill Murray a low life lawyer is his only hope since the people in the town can pull more strings then puppeteer. Just as you think you have figured out who has stabbed whom in the back someone else stabs that person in the back. This movie was truly better then the poor box office showing gave it. The video transfer is good to excellent. There are hints of grain from time to time, but overall the transfer is clean and provides bright colors with out over saturation. The 5.1 soundtrack does not disappoint. The audio is very clear and crisp, with a great use of directional and surround effects. The extras include trailer and teaser, as well as, deleted scenes and a director's commentary. Both Full and Widescreen versions are included on this double-sided disk. An excellent job Columbia. This film would make an excellent item to add to your film library and is fairly priced from 9.99, making this one is hard to pass up!
Please help support our site by buying this DVD title through this link. Thank you kindly.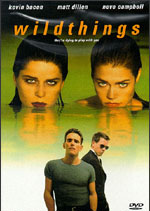 Purchase This DVD
Story / Content



Audio



Video



Extras