WILLY WONKA AND THE CHOCOLATE FACTORY (WIDESCREEN)
Reviewed December 17th, 2001 by Dan Jones
"There's no earthly way of knowing... Which direction we are going... There's no knowing where we're rowing... Or which way the river's flowing... Is it raining?... Is it snowing?... Is a hurricane a-blowing?... Not a speck of light is showing... So the danger must be growing... Are the fires of hell a-glowing?... Is the grisly reaper mowing?... Yes, the danger must be growing... 'Cause the rowers keep on rowing... And they're certainly not showing... Any signs that they are slowing!"

Talk about freaky. I just had to take that quote from the infamous Willy Wonka and the Chocolate Factory; it is probably the most disturbing scene in a children's movie ever. And it's just fantastic.

Brought to the big screen in 1971, Willy Wonka and the Chocolate Factory became an instant classic for children and grownups alike. A movie based on the children's book master, Roald Dahl, Willy Wonka presents the viewer with a fantastic story of a poor boy, Charlie, and his journey into Willy Wonka's infamous Chocolate Factory through the luck of receiving a golden ticket inside his one single candy bar; while other children had to check hundreds and thousands. It's called foreshadowing.

The five people who receive this golden ticket inside the lucky candy bars get a once in a lifetime trip inside the Wonka Chocolate Factory. On top of that, they are capable of winning a lifetime supply of Wonka chocolate.

Ah, but Willy Wonka is not another children's movie…no, not in the slightest. Willy Wonka, if anything, is a little more edgy then what might be expected. Upon entrance into the chocolate factory, a test starts... a test to weed out the bad children, leaving only the good child to receive the grand prize. Problems that befall on the way are both hilarious and treated somewhat oddly for a children's movie... Wonka just does not care… and I love it.

Wonka's cast all does a very good job; with an exceptionally stand out performance by Gene Wilder as Willy Wonka; I really can't imagine an actor doing a better job; he just plays the character perfect... I'm sure Dahl was proud. Julie Dawn Cole does an excellent job as the super-brat, Veruca Salt. David Battley is quite amusing as Mr. Turkentine... even though he has few lines in the movie. Overall the rest of the cast fits the movie greatly. Everyone has their own little niche; the writing, directing, and acting are great all around. Oh, and the Oompa-Loompa's are something special.

On the DVD front, this 30th Anniversary of Willy Wonka and the Chocolate Factory released by Warner Home Video has had some issues. First off, Warner decided that it would be best to release Willy Wonka in full screen; saying that most families prefer "make my picture big" to the DVD enthusiast preferred anamorphic widescreen. So, the original idea was full screen; nothing else. Of course, Warner claimed that this release would actually show more vertical information, as Willy Wonka was shot in open-matte. But, as we all know, movies aren't presented theatrically in 1.33:1 (99% of the time), and therefore we knew Warner could do better... they were just being stubborn.

So, the online petition was started. Thousands of people signed it; and eventually, Warner got the picture. God bless the power of petitioning and the Internet. So, now we have Willy Wonka and the Chocolate Factory the way it should be... in anamorphic widescreen. Let's look closer.

For the audio front, Warner has used the new 5.1 Dolby Digital remaster found on the full screen version (obviously). As we should learn about remastering old movies... a lot of the times it's not going to sound all that spectacular. This is one of those times. For the most part, the 5.1 mix is pretty bare bones. Most of your audio is going to be coming from the center channel, spread very mildly over your left and rights, with little to no activity going on behind you. Overall, I was not too impressed with the mix; but when you think about it; this movie is 30 years old, and therefore, it's not all too bad. We're also given the option of 2.0 surround tracks in English, Spanish, and Portuguese, and subtitles in English, French, Spanish, and Portuguese. Nicely enough, English Closed Captioning is also available.

For video, as said before, this version of Willy Wonka is presented in 1.85:1 anamorphic widescreen, and unlike the remastered audio, the video looks quite exceptional for its age. The transfer is very clean and, for the most part, scratch and blemish free. No digital compression artifacts were to be found, and excessive edge enhancement was not a problem. Colors all look very good; and besides the occasional softness, I really have no complaints with the transfer. It is truly better then anticipated from a movie of this age.

For a 30th Anniversary Collectors Edition, you have to figure Warner is going to give us some extras. Of course, you're right. Starting it out we have an interesting take at a commentary track; bringing us all five of the Wonka kids back to talk, thirty years later, about their time making the movie and about different scenes. Overall, this is very amusing to listen to.

Next, we have "Pure Imagination: The Making of Willy Wonka & The Chocolate Factory." This is the meat-and-potatoes of the disc, giving us a thirty-minute documentary about the film with interviews with some of the cast including Gene Wilder, director Mel Stuart, and producer David Wolper. Overall, this is a nice and informative extra that gives us deeper insight, and some old-old behind the scenes footage into this exceptional family movie.

We're also given a very old promotional piece on Harper Goff, the Oscar Winning production designer. This short clip also gives us some more behind the scenes info, and even Roald Dahl. Next up, we're given something for the kids, a Wonka sing-a-long with the songs from the movie; amusing if nothing else.

Finally, we have the standard extras. We get the very old and beat up theatrical trailer, cast and crew information, and a photo gallery.

All-in-all Willy Wonka and the Chocolate Factory is one of those timeless classics that can easily be seen again and again. If you're like me, you had probably never seen Willy Wonka the way it was meant to be seen; in widescreen in good video and sound, without commercials. This is just one of those movies that the whole family can enjoy; and one of those movies that everyone film fan should have in their collection. Without a doubt, this widescreen 30th Anniversary Edition of Willy Wonka and the Chocolate Factory is highly recommended.
Please help support our site by buying this DVD title through this link. Thank you kindly.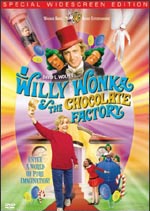 Purchase This DVD
Story / Content



Audio



Video



Extras